New research-oriented Masters programme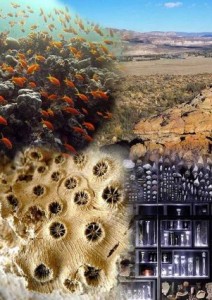 The website is getting restructured. Please be patient and return later for updates.
The acute theme of global climate change and its impact on organisms and ecosystems requires a new generation of scientists. We provide theoretical concepts of
macroecology and macroevolution, as well as statistical techniques and scientific
programming in palaeobiology. The second pillar of this specialization is the reconstruction of fossil environments and their local and global controls. We focus on carbonate systems, which are the result of the metabolic activity of organisms and thus reflect the interplay of the biosphere and the earth-system at large.
Our goal is to help students become internationally
competitive in palaeobiology and science-related fields.
The Master programme consists of four semesters with 30 credit points (ECTS) each. In
addition to compulsory courses, students can choose supplementary activities, including language classes or additional field excursions. The last semester is dedicated to the Master thesis. Supplementary courses (SC) include field trips, language courses, and transferable skills.
Download the flyer on our programme
An interview in German about the new programme.
The most amazing part of this programme (besides intensive supervision) is that it actually covers how to become a good scientist. You will learn how to phrase research questions, conduct own studies, get grants for your research and many many more. – Gregor Mathes, Class of 2019