The Application Process (step-by-step)
---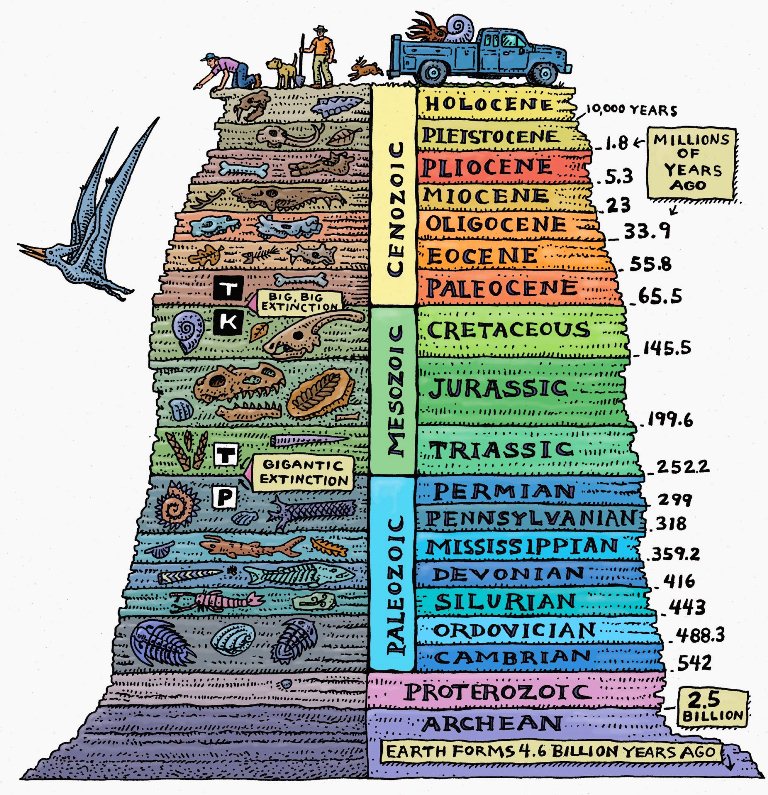 A creative approach to the geological time scale (
figure by Ray Troll)
Overview
The application process has three distinct steps:
Let us know that you are interested: Please write us an email, if you consider applying. We are more than happy to assist with the application process, to check your official documents and to help with the logistics of applying and moving to Germany. Also, if you have any questions concerning the study program, student employment opportunities, or life in Germany, we will let you know how to step forward!

Online application on Campo: The application form is submitted and generated with the campo portal.

The interview: Most prospective students have to go through an interview to be admitted to the master program.
More information on the application procedure is available at the webpage of the Masters Office of FAU.
---
I. The Campo-portal
The formal application process starts on the Campo portal.
If you want to learn more about the Campo portal and the rest of the informatics system of the university, here you can find an overview of online platforms.
In case you missed this, at the bottom of this page you can find a quick tutorial on how to use the Campo system for applications.

Step 1: Getting access to Campo
Go to the campo webpage! After clicking on the link, you are brought to the Start Page. ​
Click on the Applicants tab!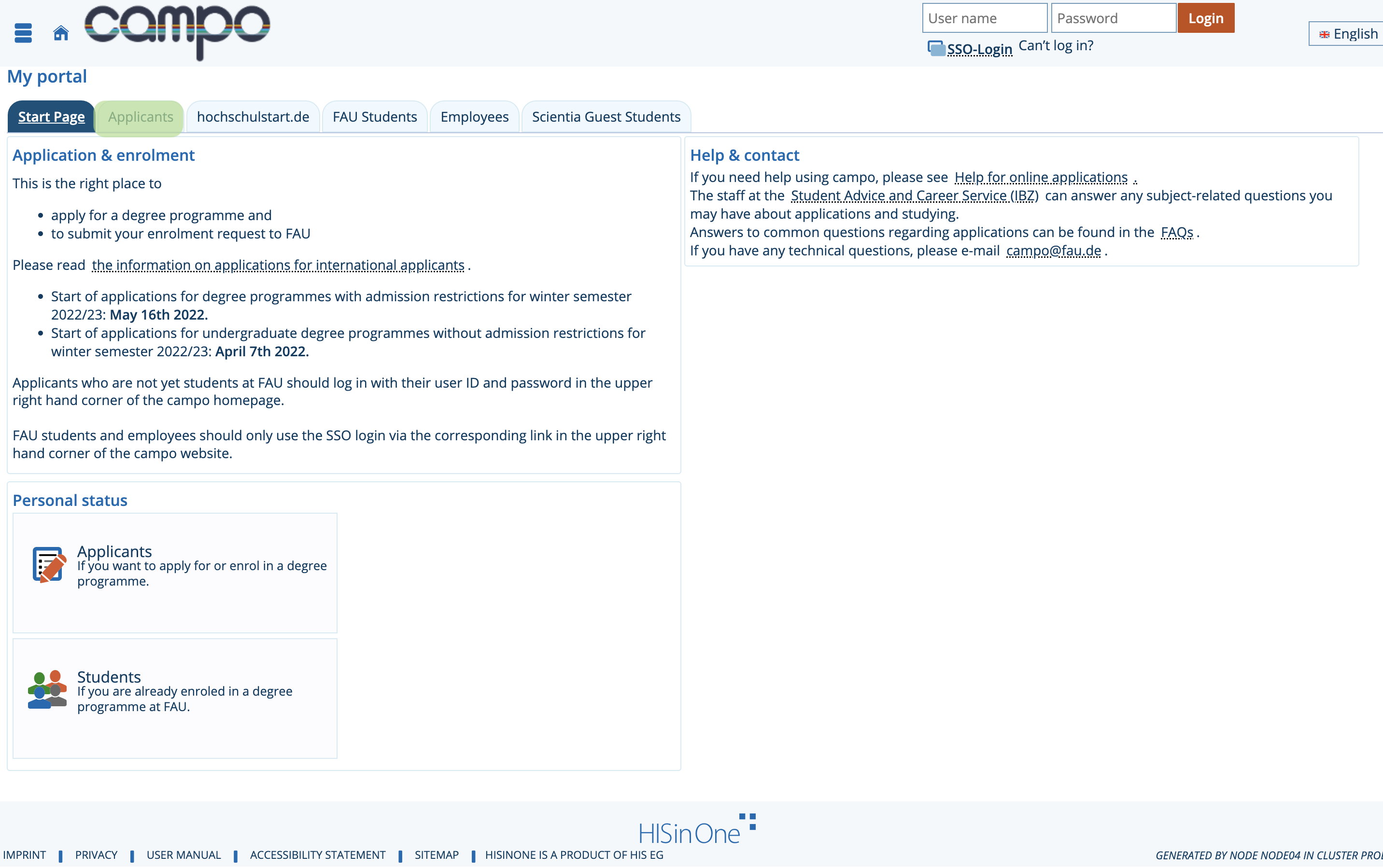 Register on IdM
​Before you can apply you need to create an IdM profile. ​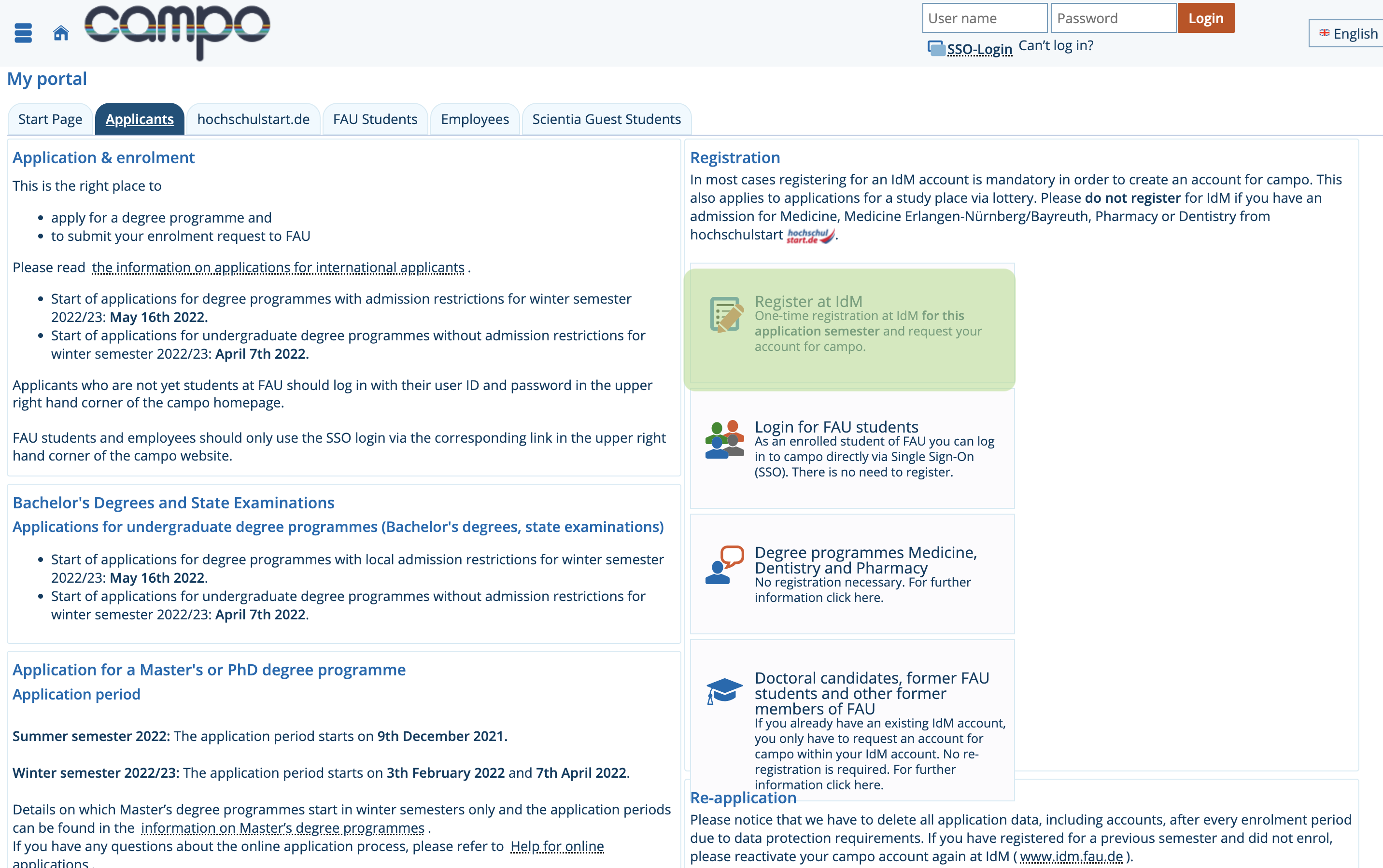 Here you can register for an IdM profiles. Fill in all the necessary information and click submit ​
​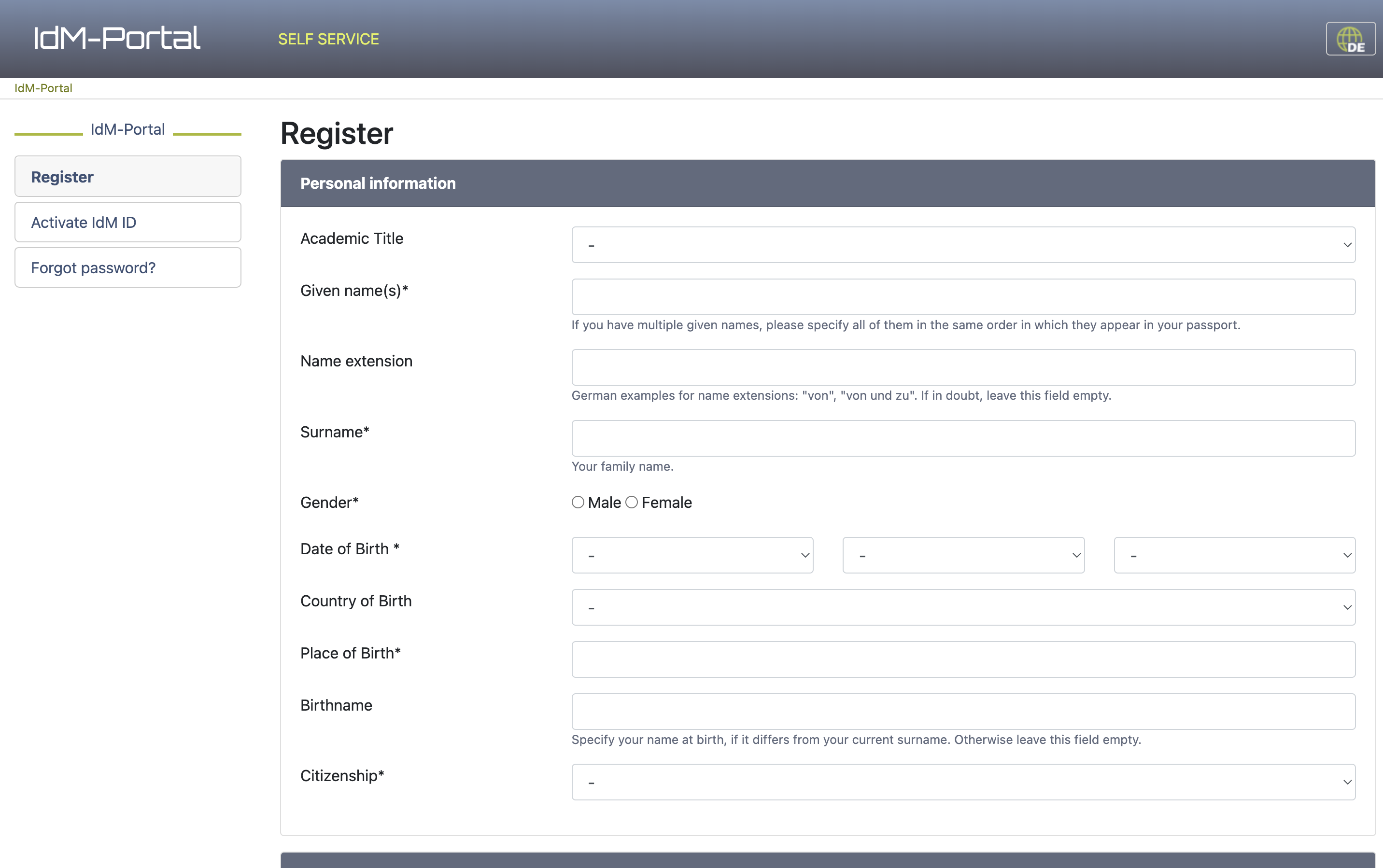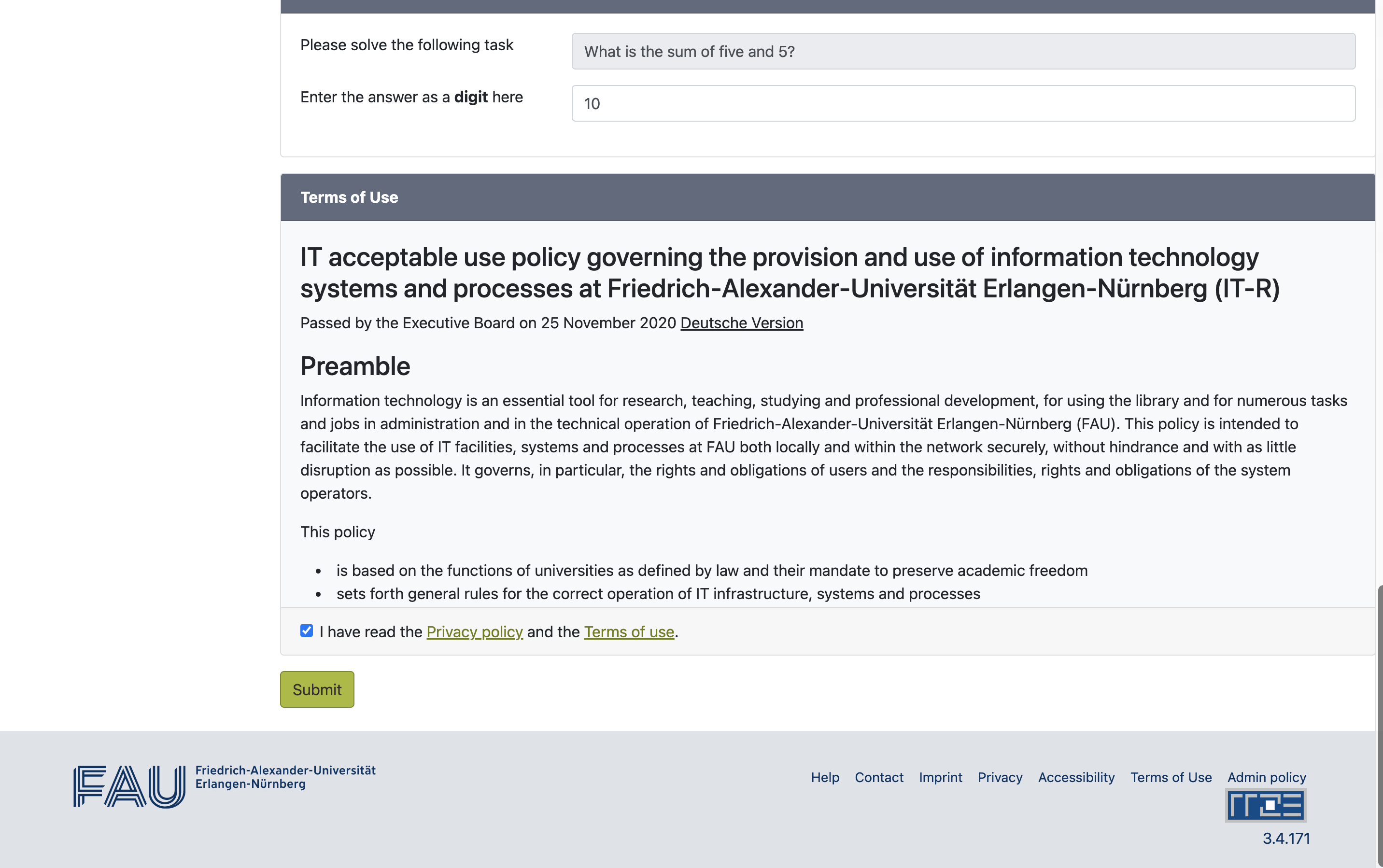 ​
Verify your registration
You should then recieve an email providing you with your IdM identifier. This will be your username across all FAU portals! Click the link to verify your email address! ​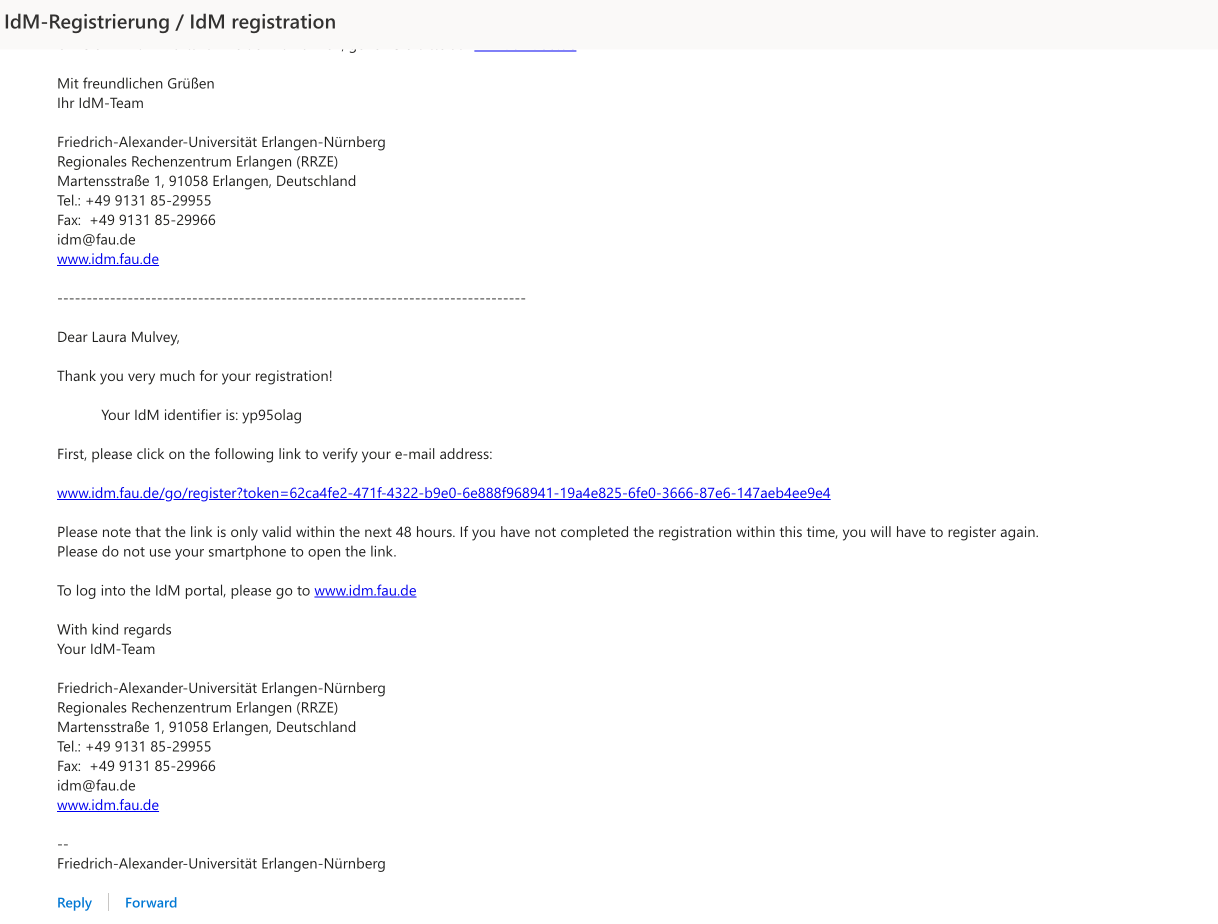 ​ ​ This will bring you to the idM portal where you can provide a recovery email and create a password for your account. Once this is done, you should be told that your registration has been successful. ​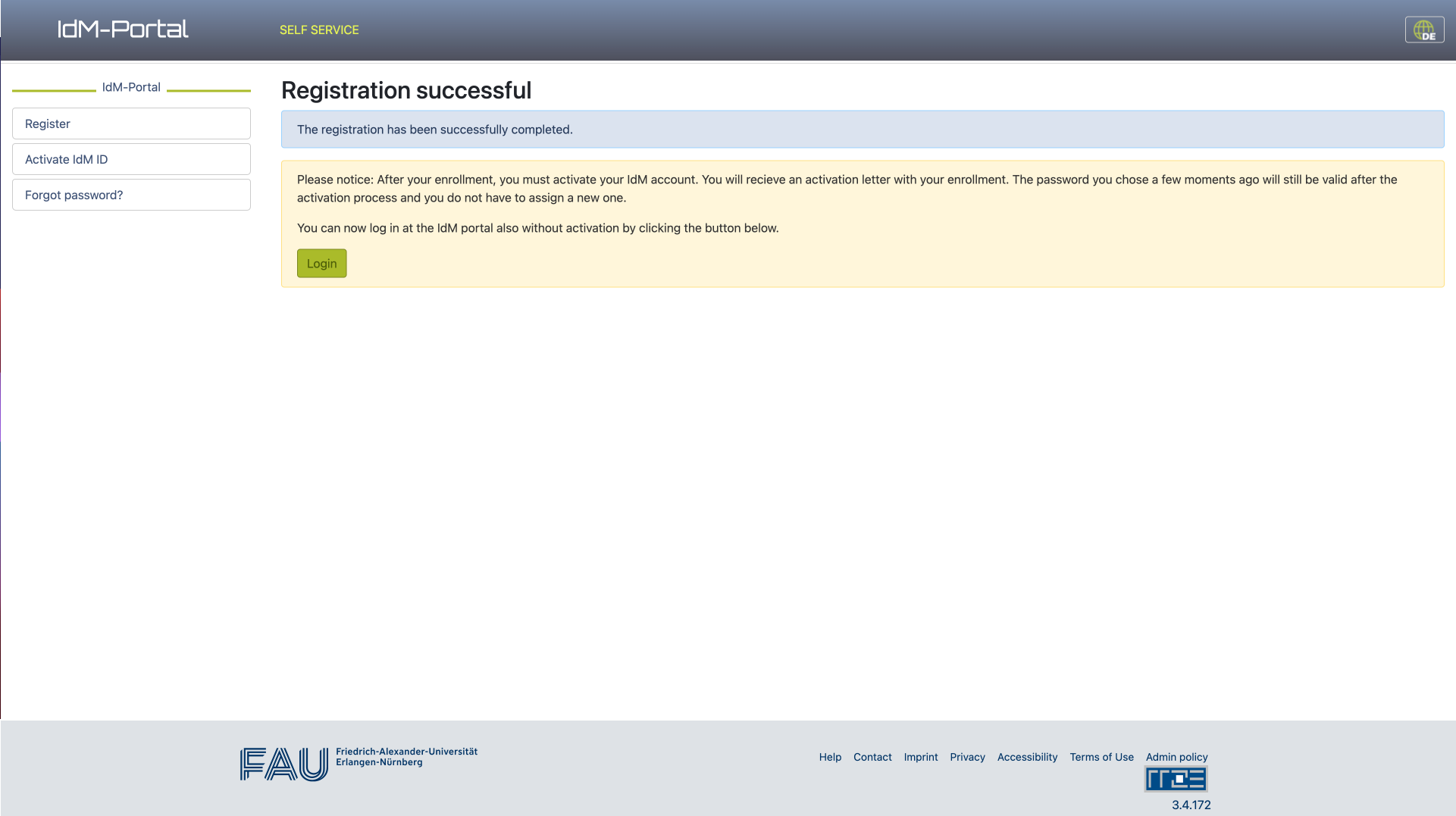 ​ If you gotten this far, congratulations! You have now set up your very own IdM profile and can log in! ​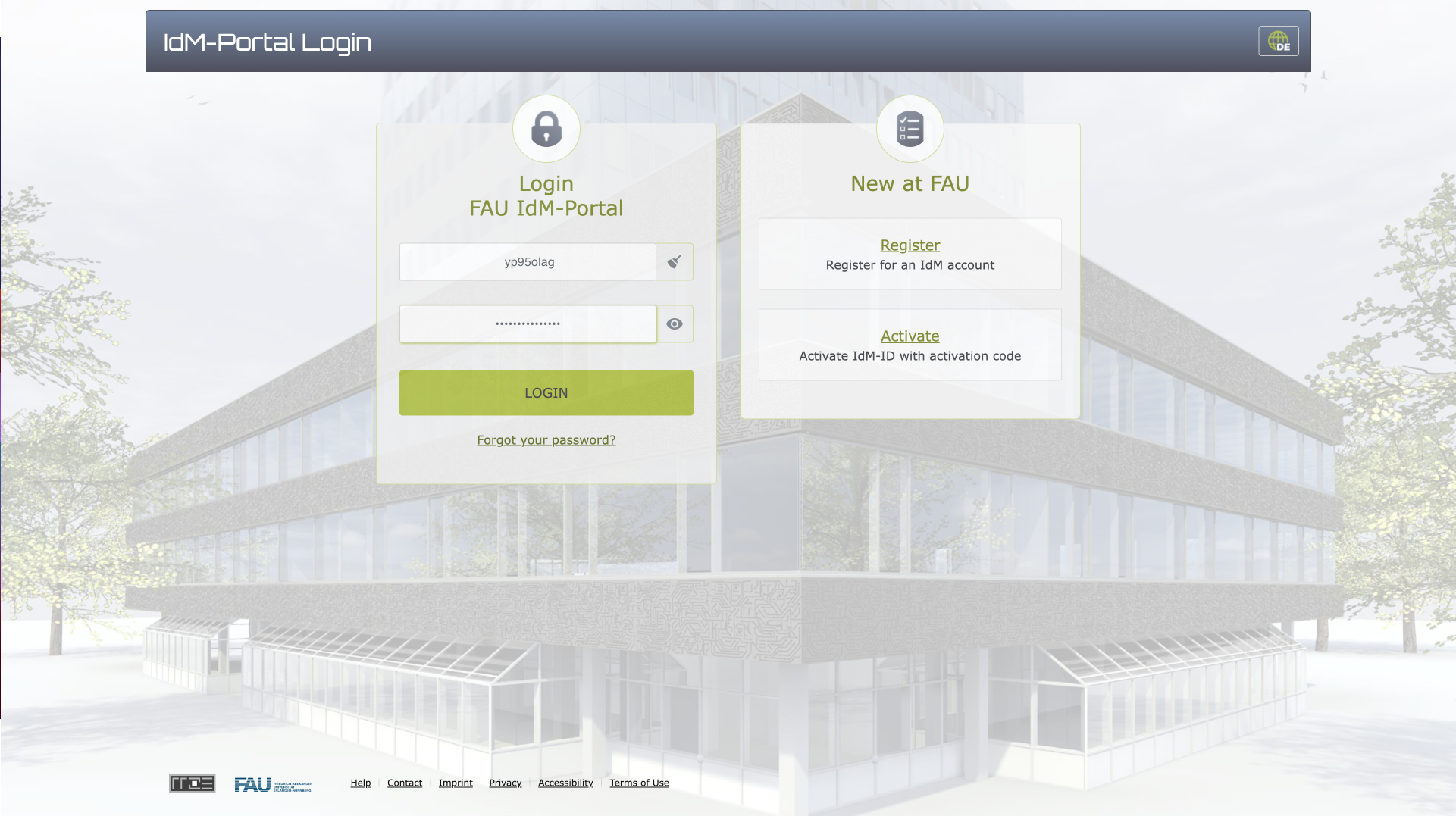 ​
Request a Campo account
Once you log into IdM, you are prompted to apply for campo access. Click apply and then request an account. This should only take a couple of minutes to activate. While you wait, you can click on the data overview tab to have a look at your account and make sure all your details are correct. ​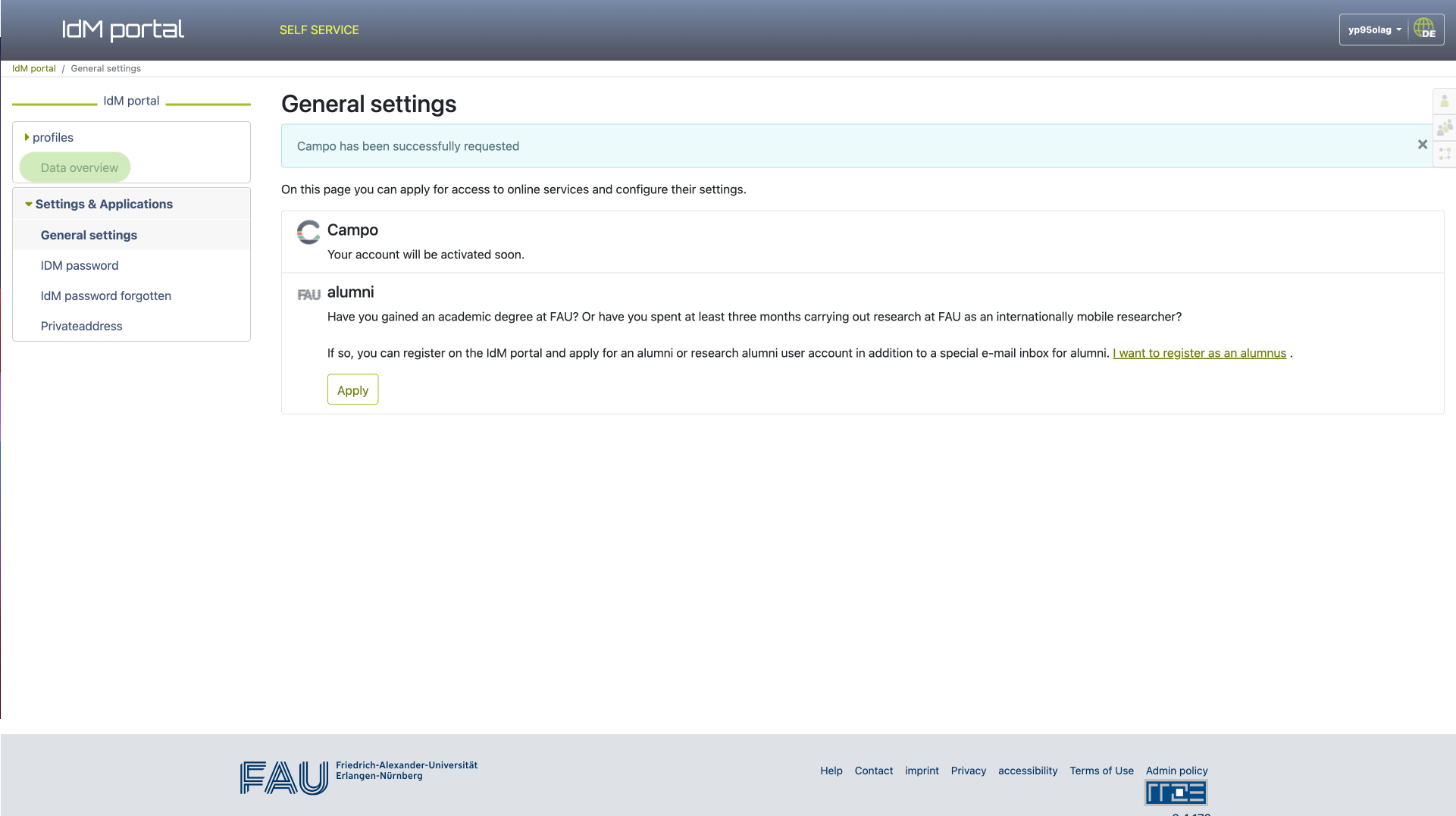 ​
Click back on the general settings tab to check the status of your Campo account. Once it is active it will tell you to log in click on the link.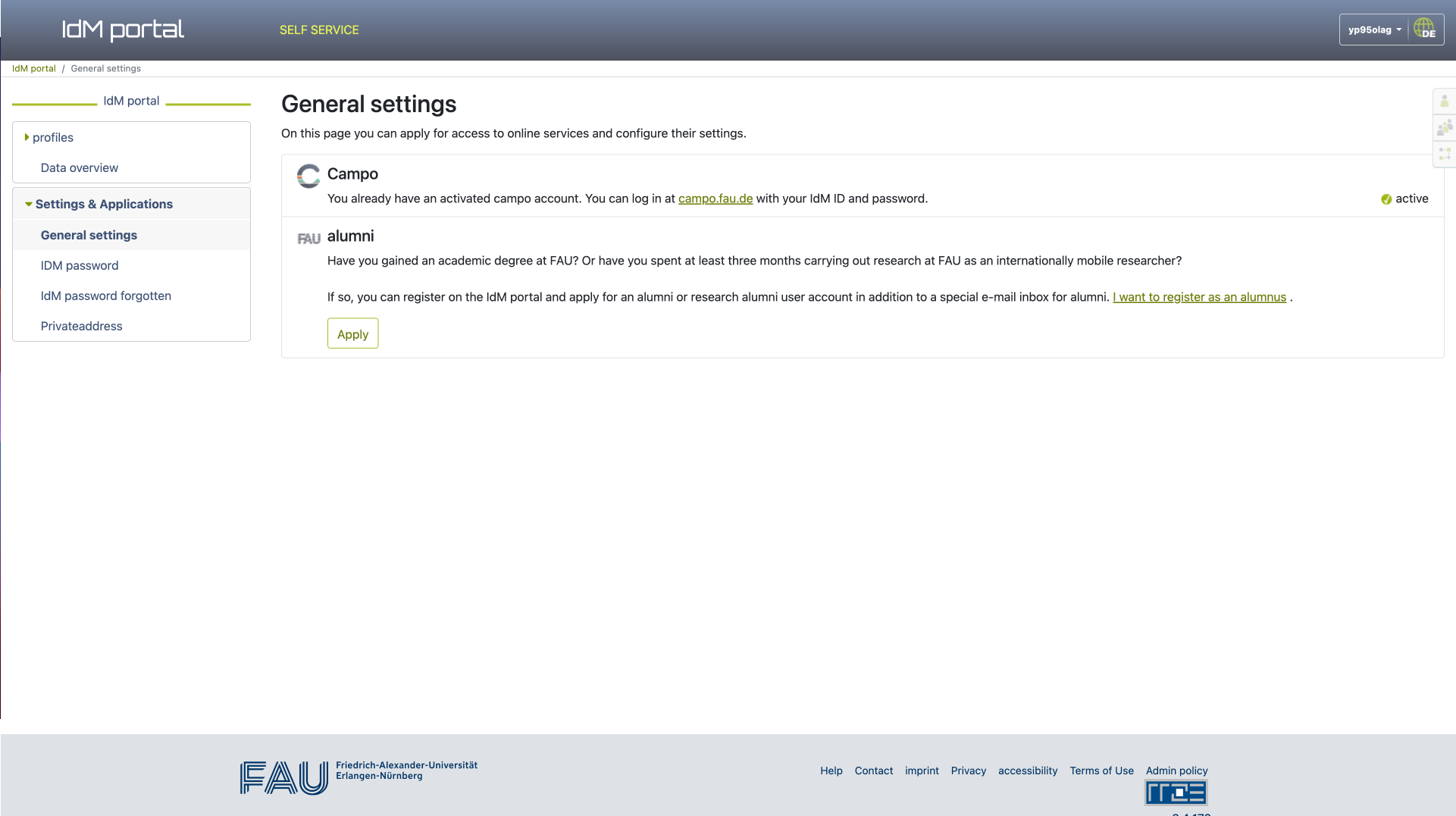 Applying on Campo
1. Log in to Campo
​
From here you can log into Campo: Use the username from your IdM account and the password you chose for it. You can change the language to English by clicking the button on the top right thats says Deutsch.
​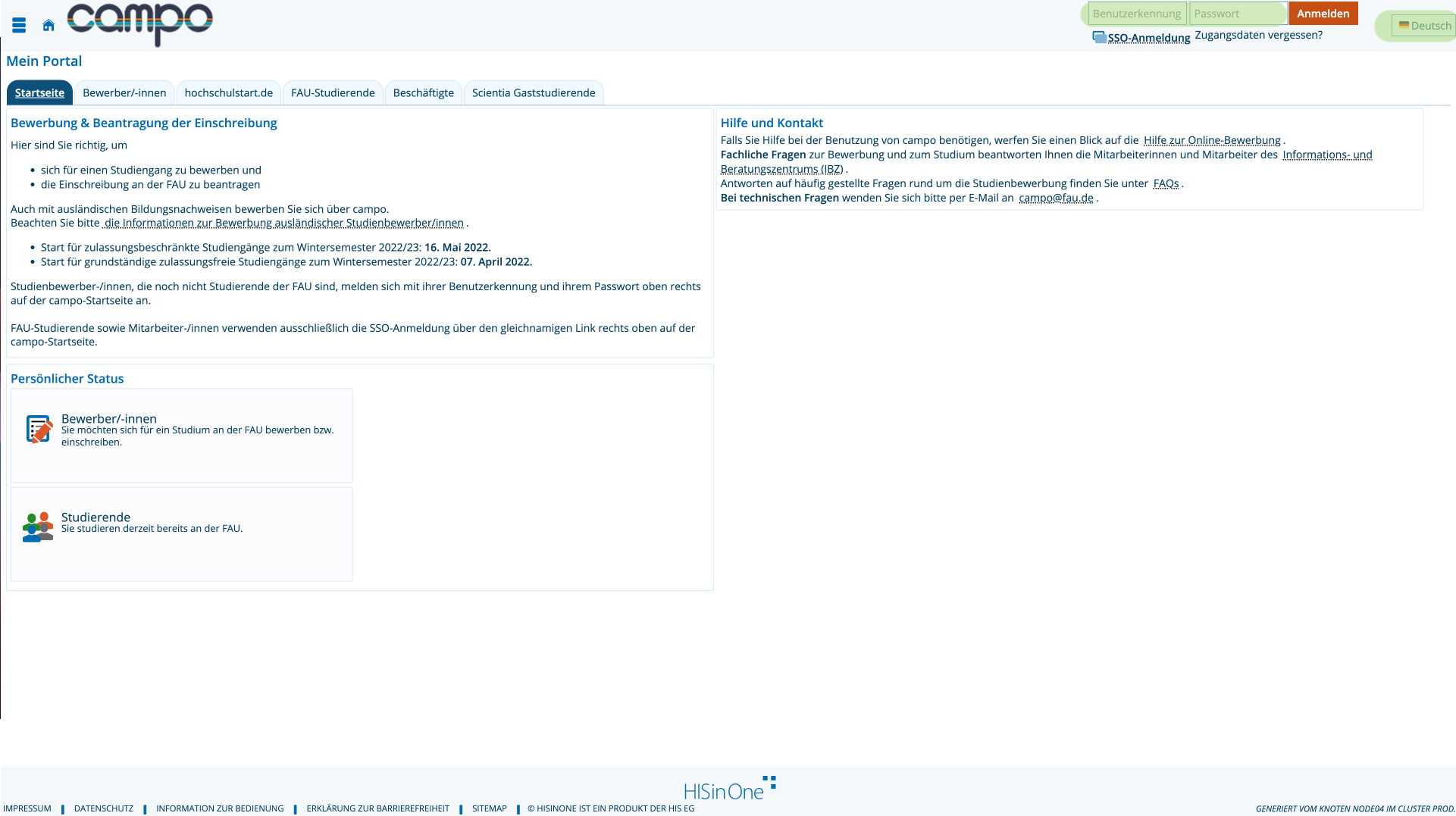 2. Start the application​
You can now open an application portal to begin the application process for the masters program. ​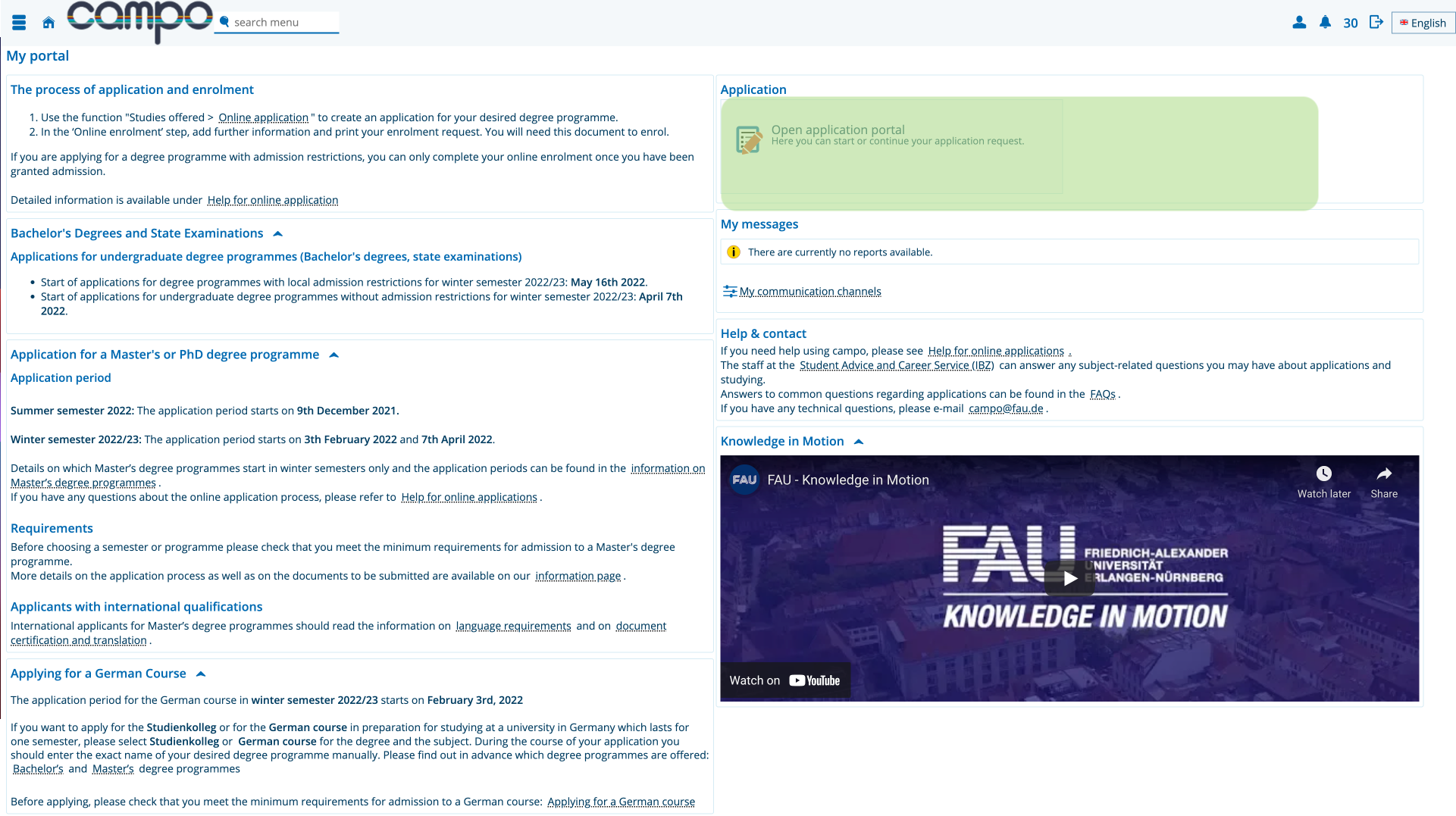 ​
Then click Add request! ​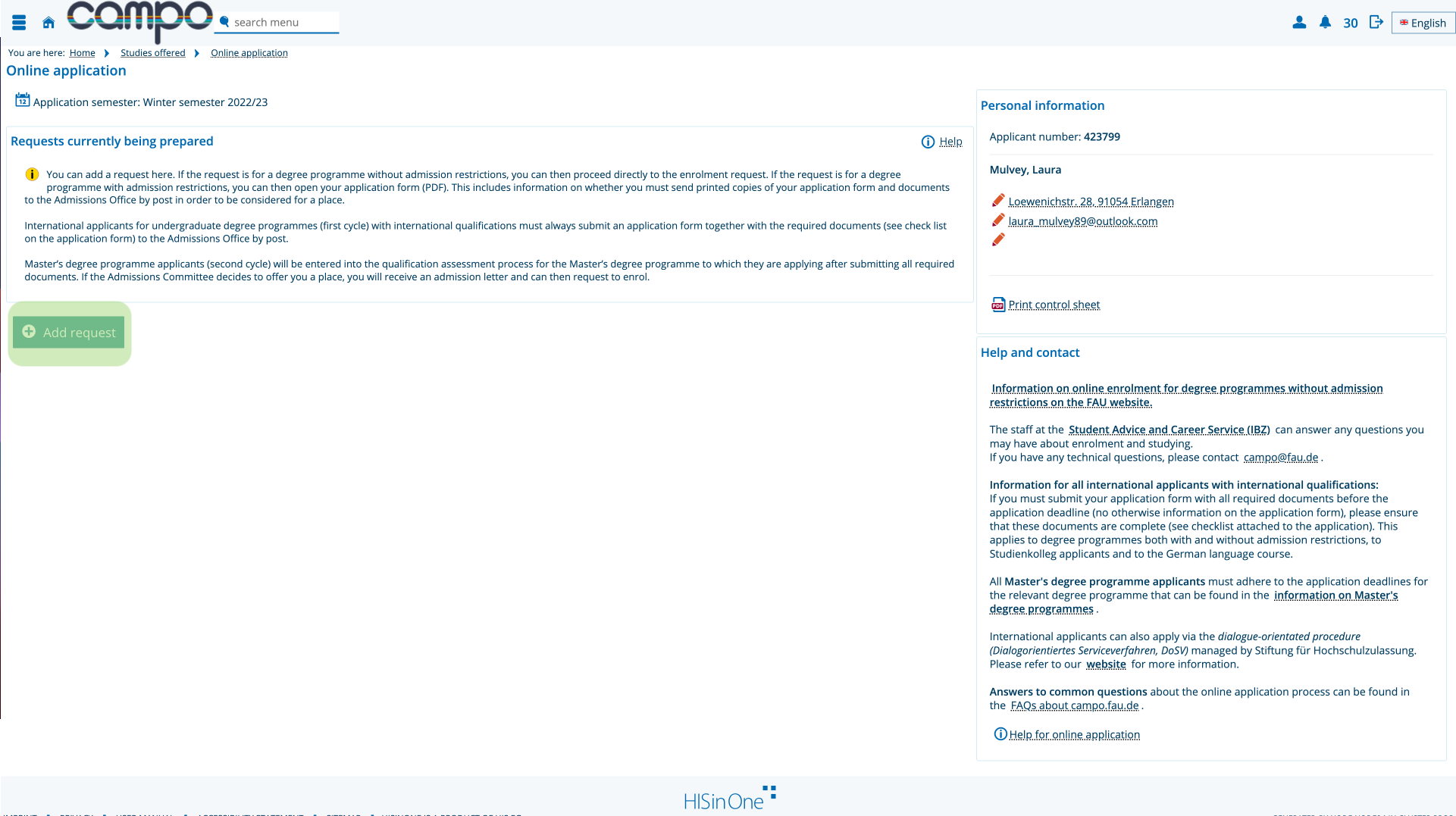 3. Specify the desired program
The first thing you need to do is indicate what program you are applying for. In this case you are applying for a Master degree, in the subject Geosciences (Geowissenschaften), and the degree program is M.Sc.Geowissenschaften in the 1. Subject semester. ​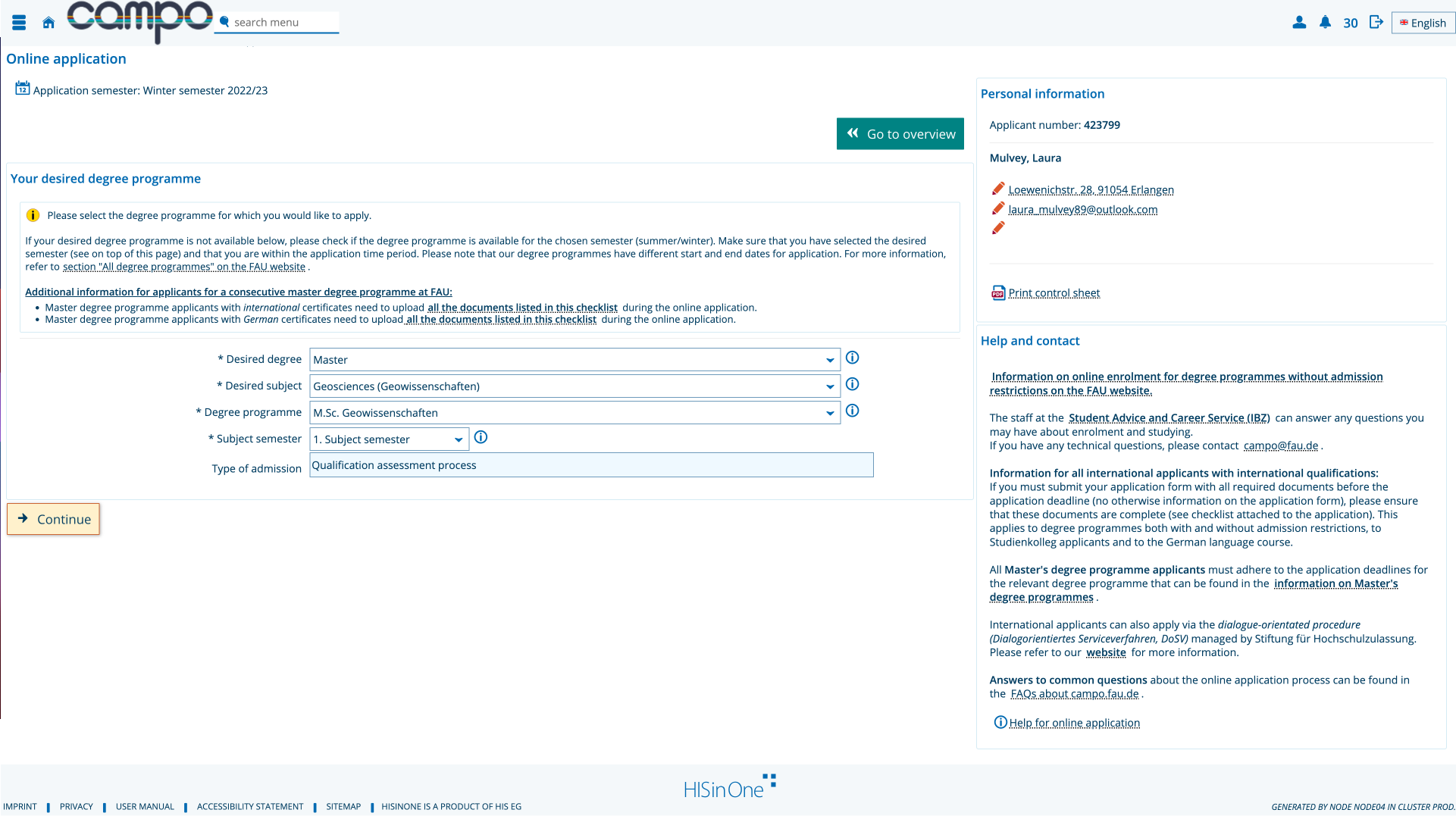 You can now go through the application process. We have provided an example to help you get through some of the questions. You can pause your application at any time and return to it later, your progress will be saved!
Do not copy the answers shown here. They are meant as a guide. You must add your own information on your application!
4. University entrance qualification
First you need to provide information on your entrance qualification (school leaving certificate). Use the info buttons to learn more about what to choose and the grading system. Unless otherwise indicated by your case, select General university entrance qualification earned outside Germany.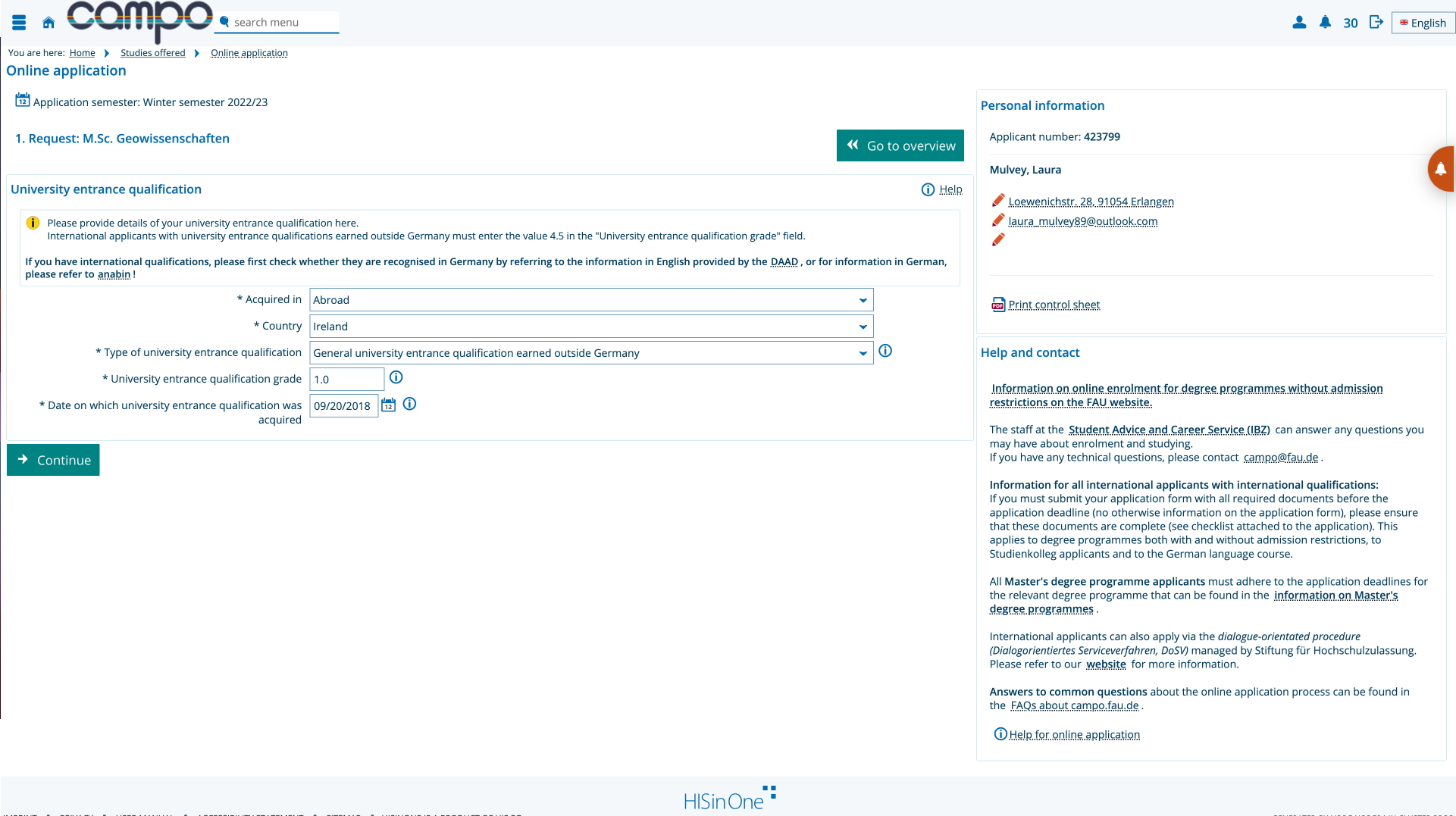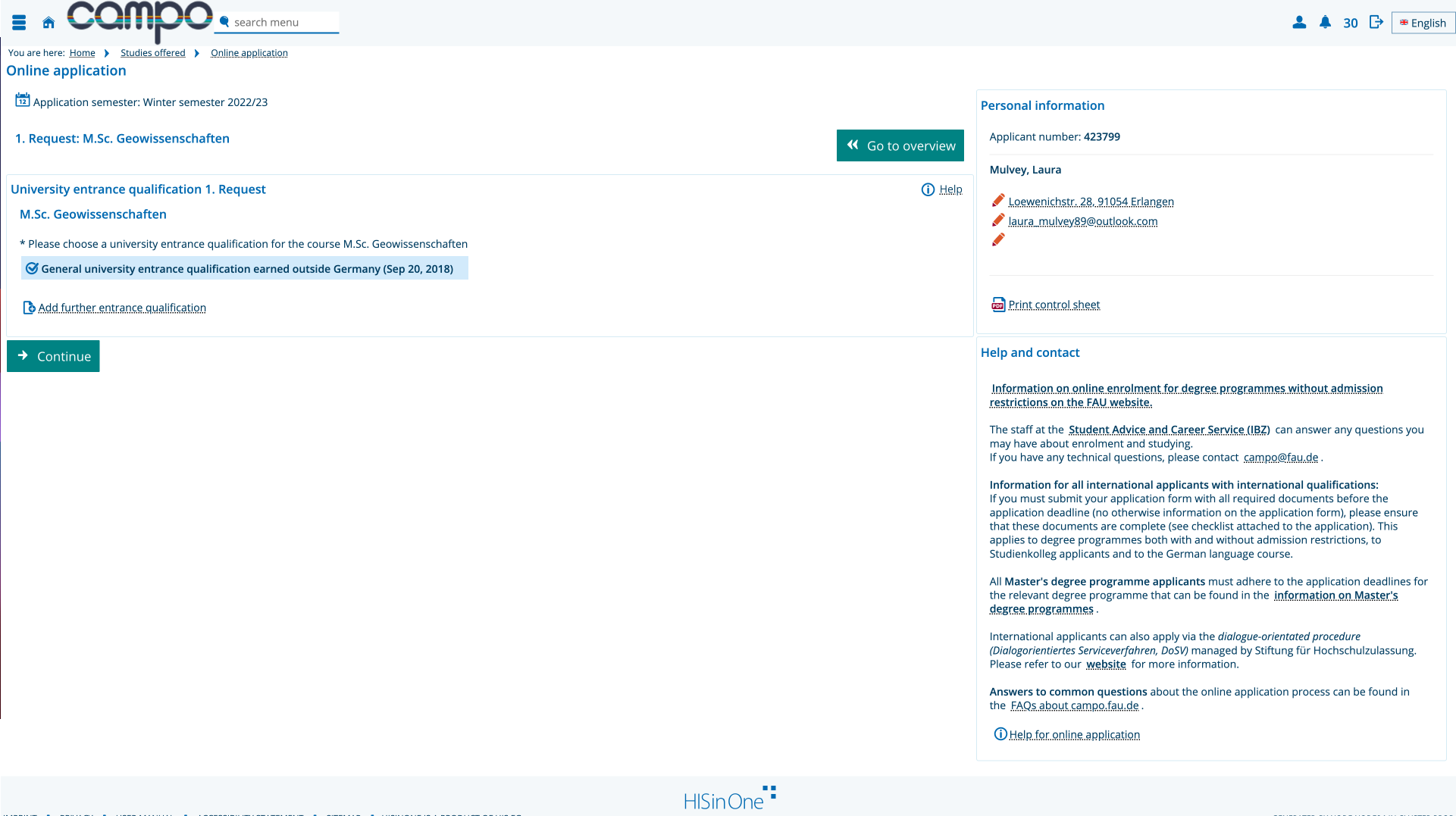 The next bit is about vocational training and national service. Unless you know better, answer with no.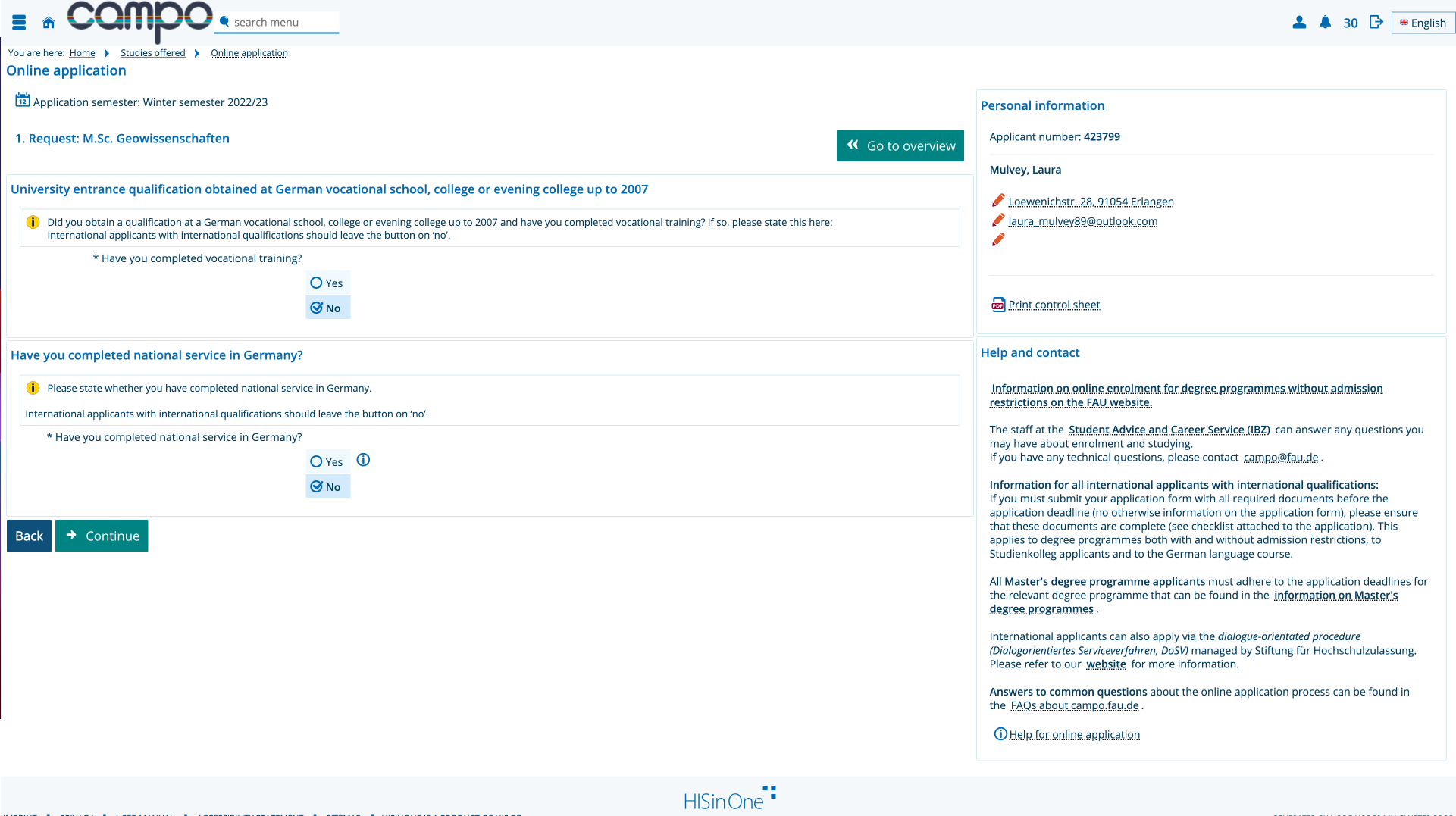 You are requested to check whether your entrance qualification is appropriate to attend a university in Germany. You can check this on the page indicated at anabin. Then you need to confirm that you have read the provided information.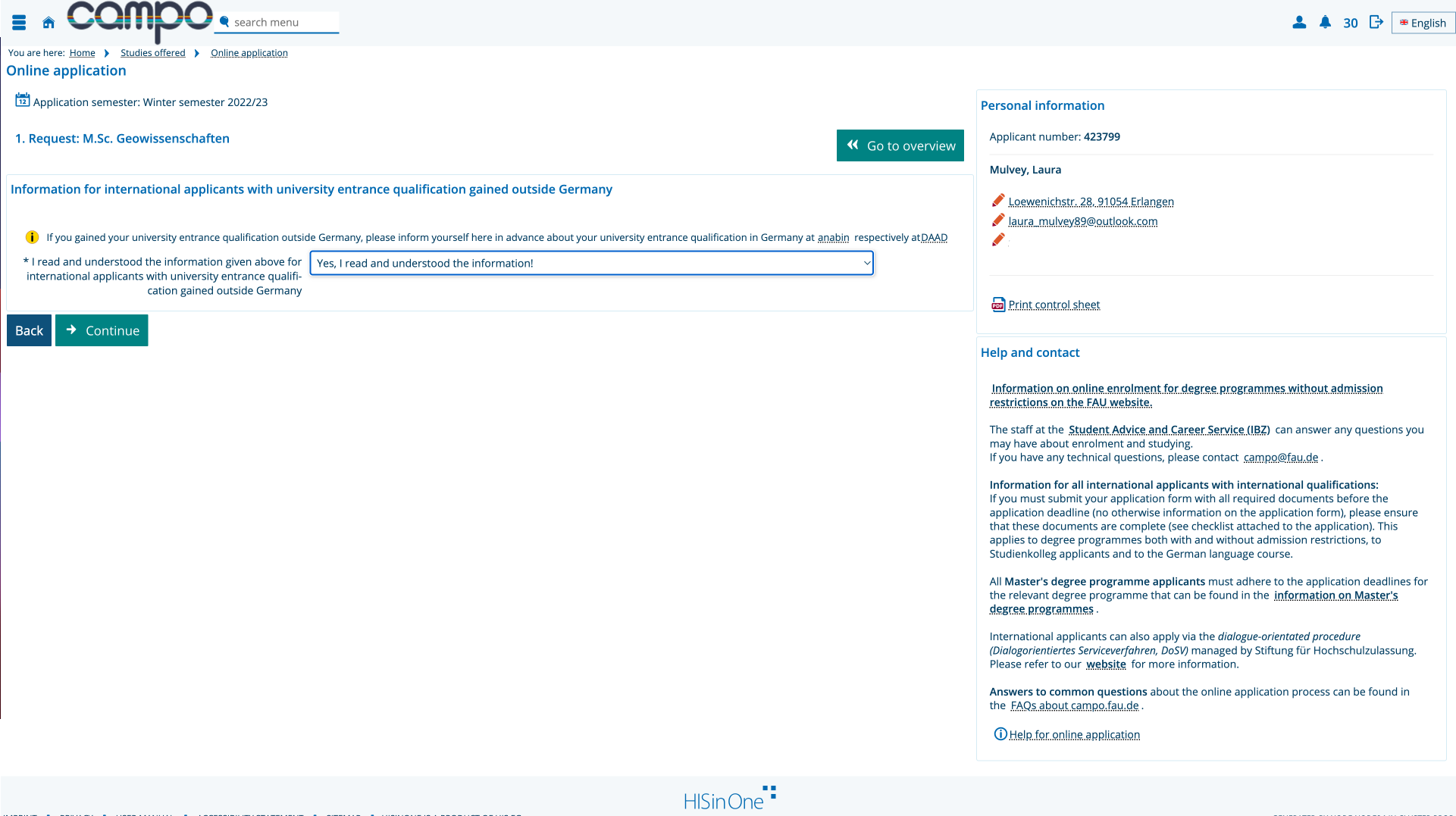 After this step you can upload your school-leaving certificate - with its translation, if necessary.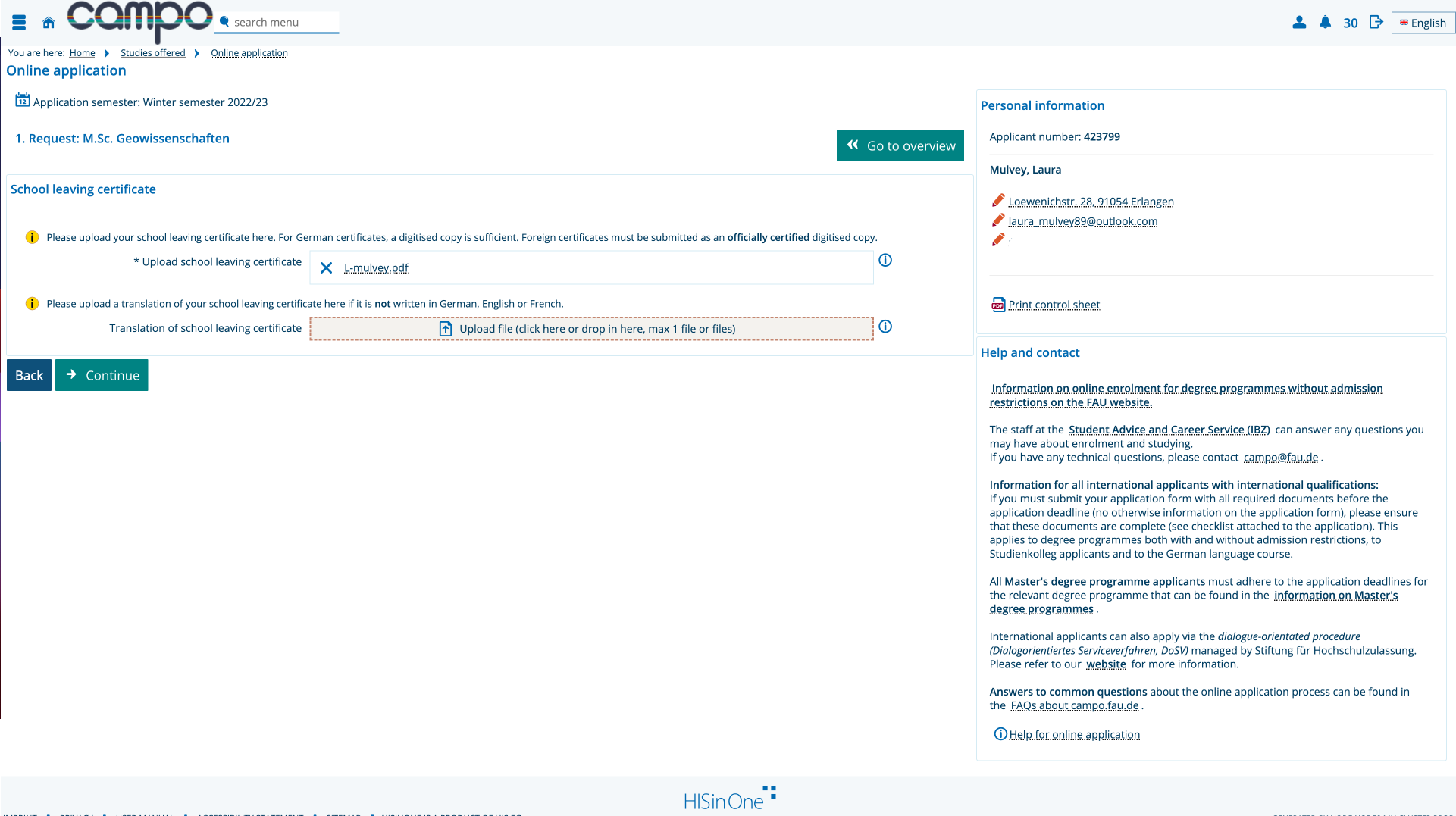 5. University degree (Bachelor/Master)
Please fill out the details of your earned degree!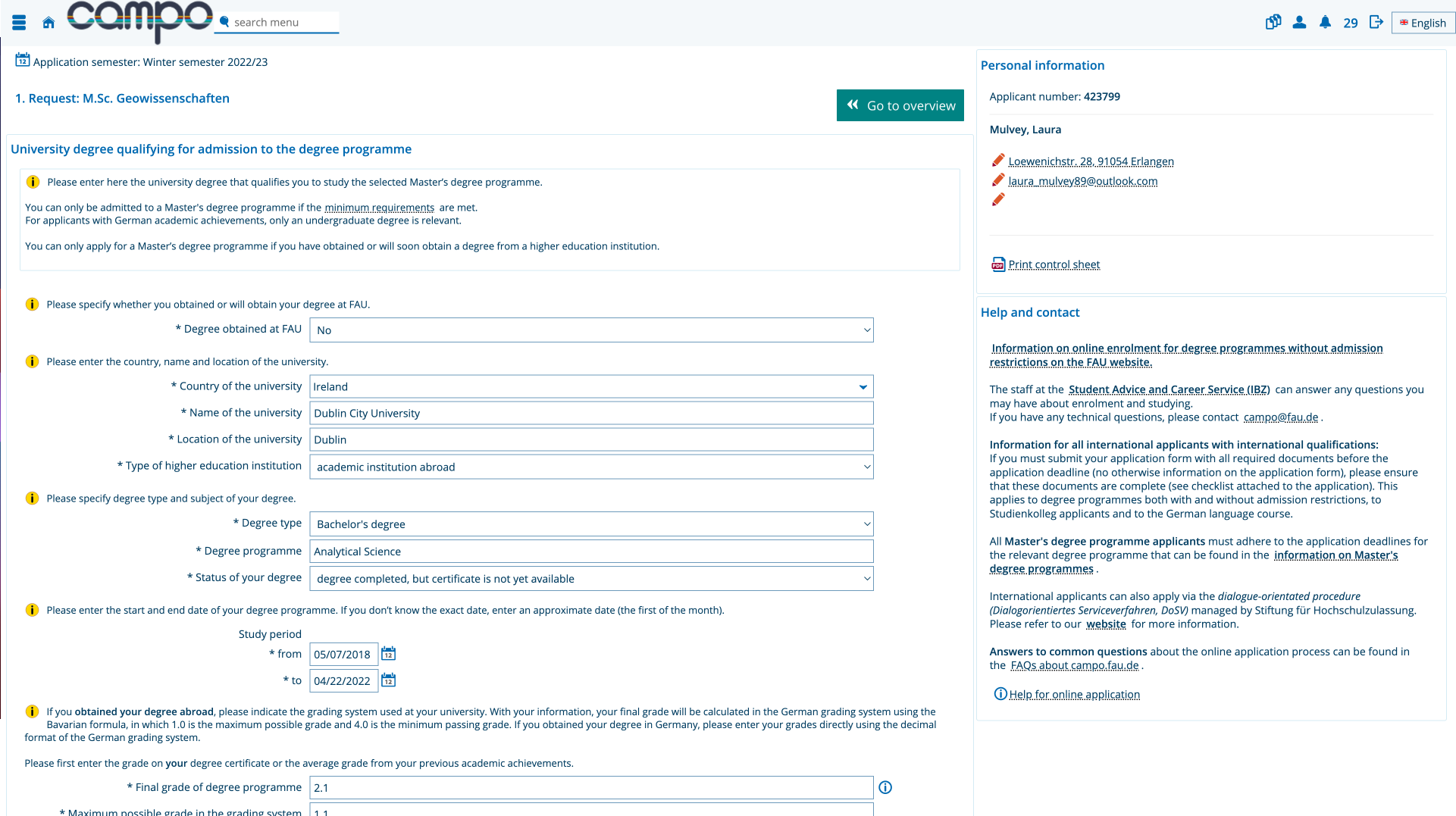 … and upload it (including translation, if necessary)!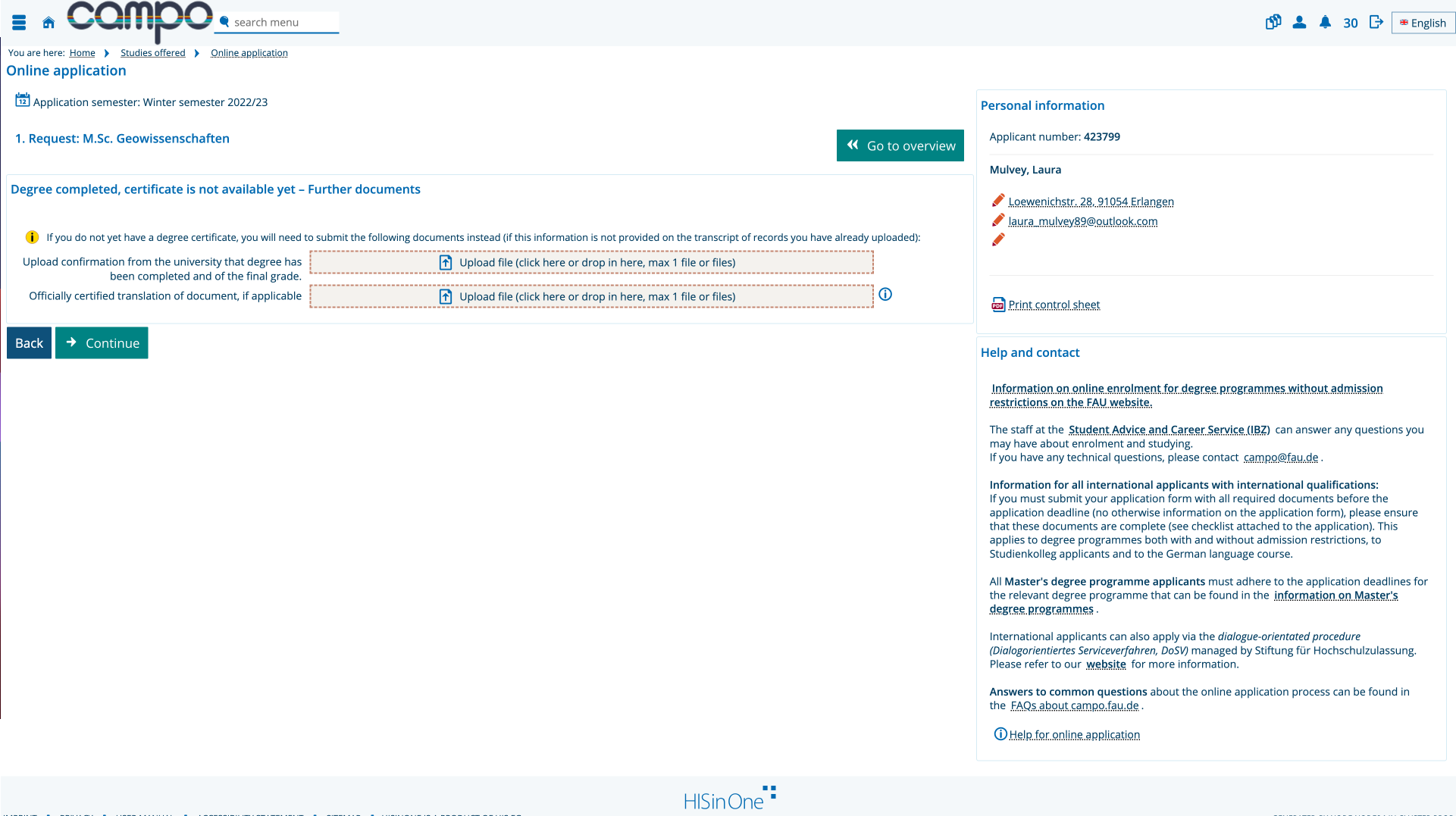 You should upload all degrees that you have earned. Repeat the process until you are ready to move on.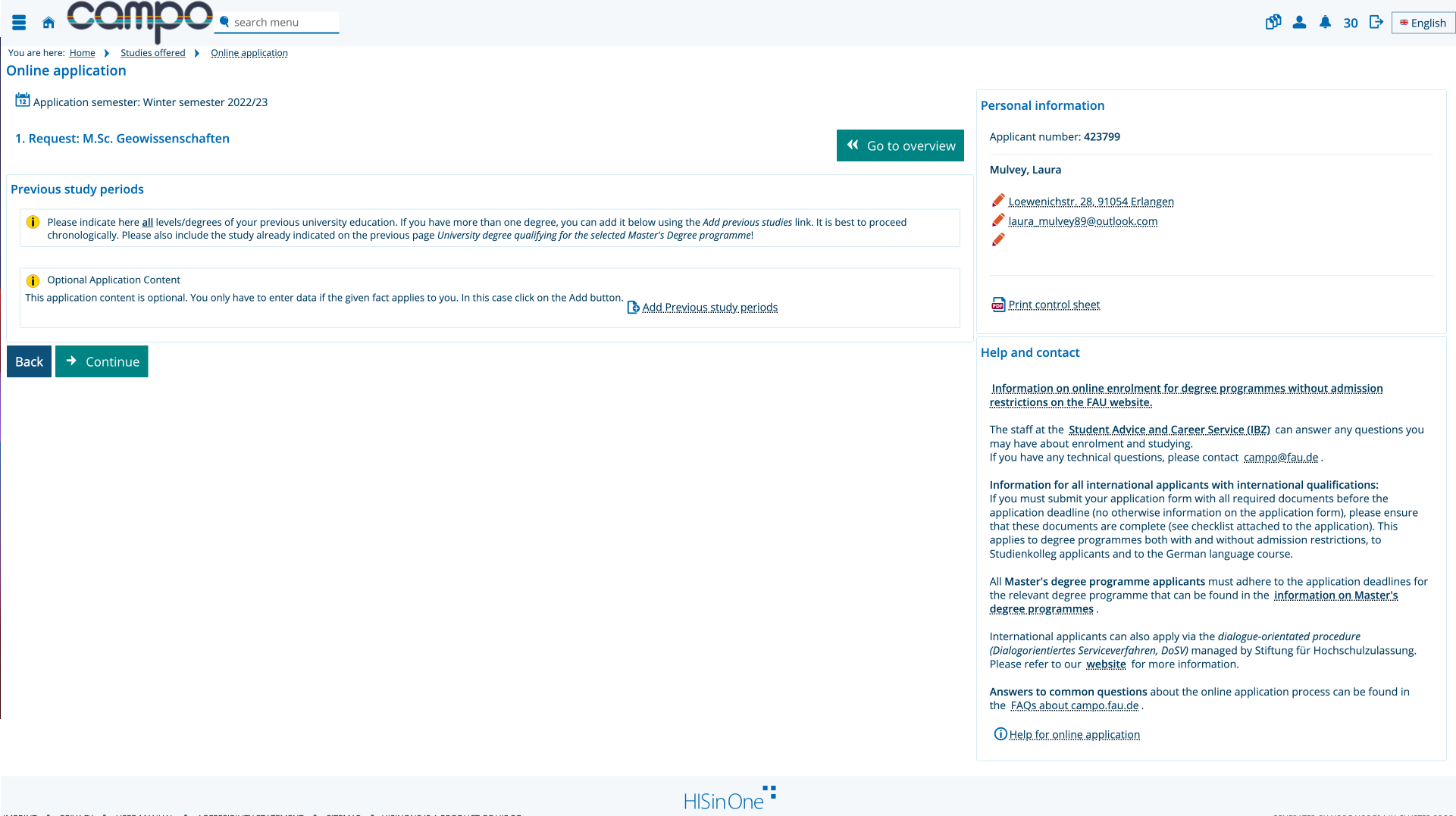 Under certain, rare circumstances (e.g. exceptionally poor performance) you may loose your right to participate in education in groups of degree programs. Unless this happened to you in a relevant field, select No for the question about lost right of examination.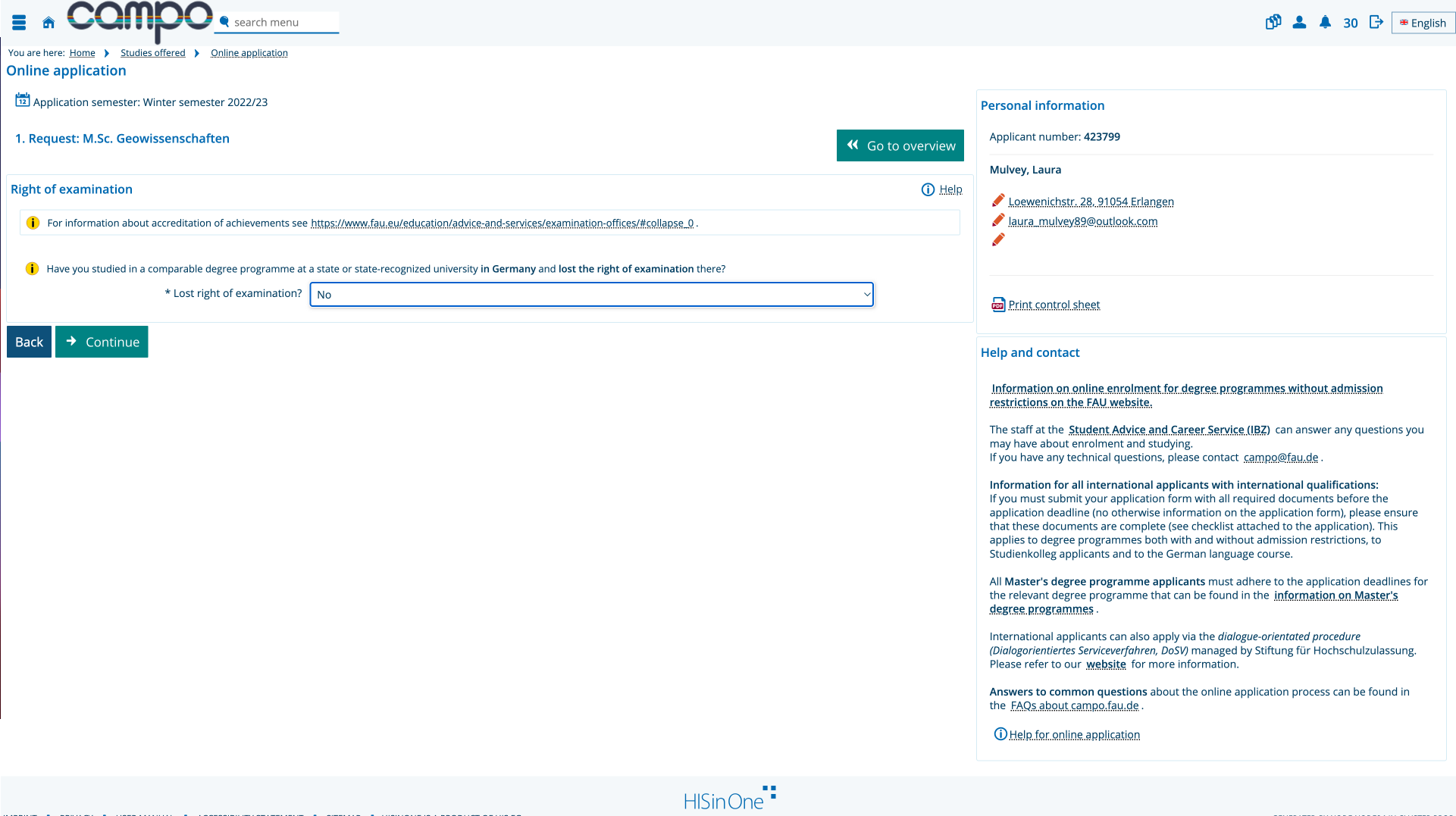 6. German skills
The Geosciences M.Sc. program offers courses in both German and English. However, you are likely applying for the English-only parts, which does not necessitate German knowledge. Unless you have certificates of German knowledge, select No Language skills and None for the certificates.
In case you do apply to participate in those subjects that are partially in German, please upload your German language certificate and select the appropriate entries.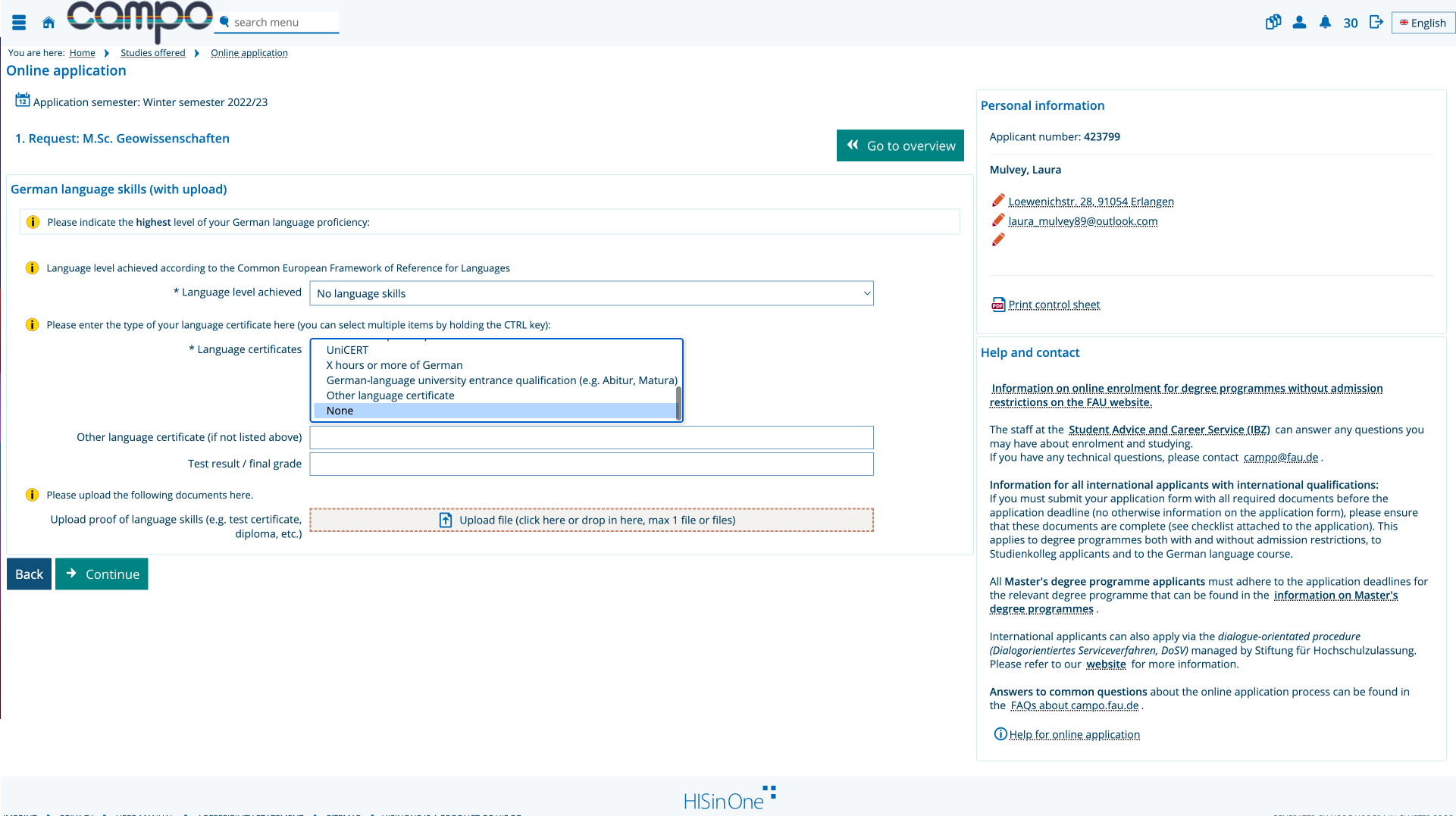 The Geosciences master program is only partially in English, and the Campo system does not know that some subjects do not require German. Therefore it asks you to upload documents that certify that you are the B2 level.
To move forward, eiher upload a B2-level certificate (if you have any) or use this Exemption document that we have prepared for you instead of the B2-level certificate.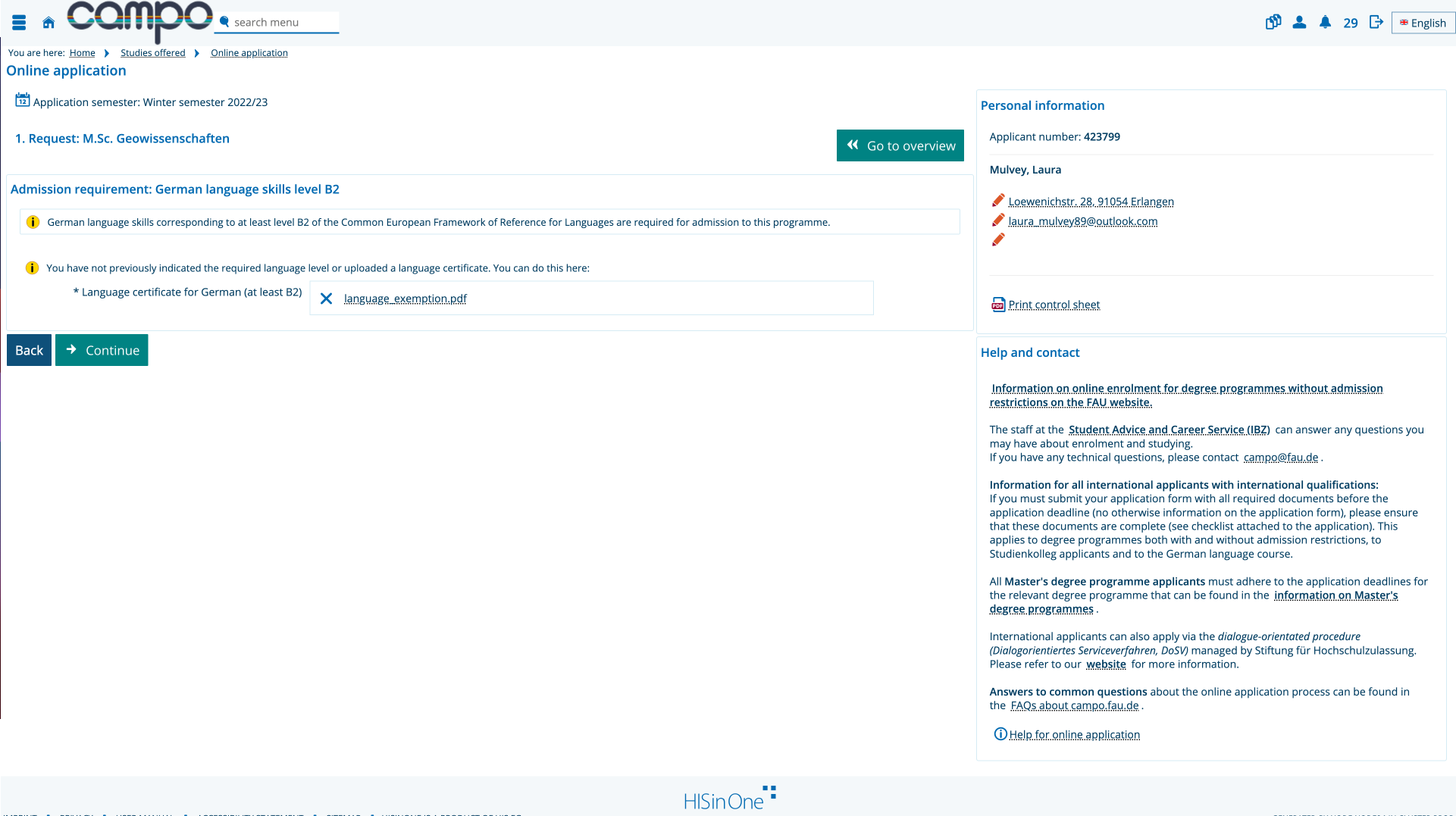 7. English skills
The same form follows for specifying your English skills. Since the language of education is English in the paleobiology program, unless you are a native speaker, providing certificates of English knowledge is mandatory. Please fill out the form according to your personal requirements.
If you have absolved your previous degree(s) in English, and you do not have any certificates, this might not be necessary. In this case, please get in touch with us.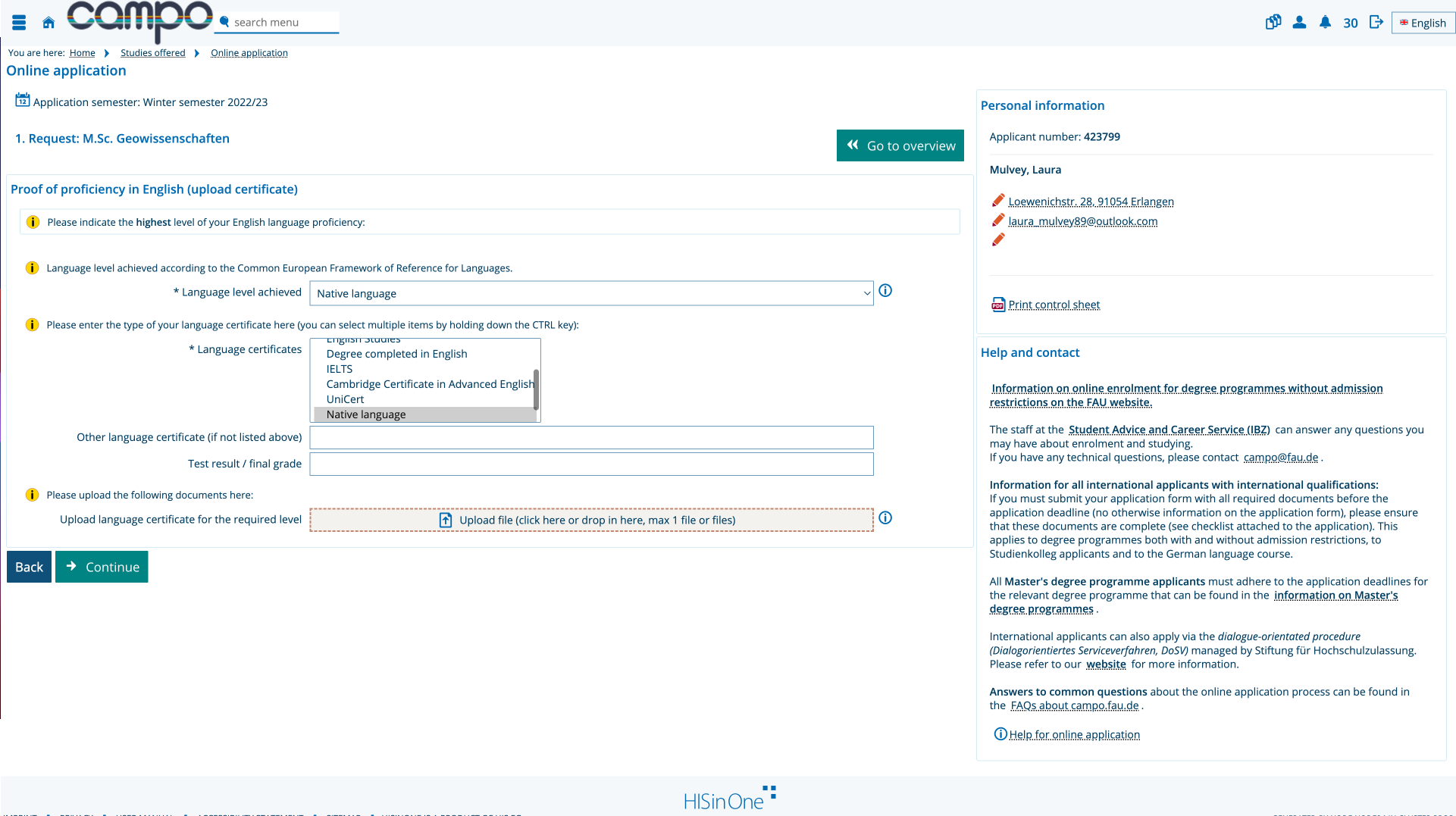 8. Professional experience
Professional experience is not necessary for our program. However, if you think that you would like to share relevant information with us, you can upload it here.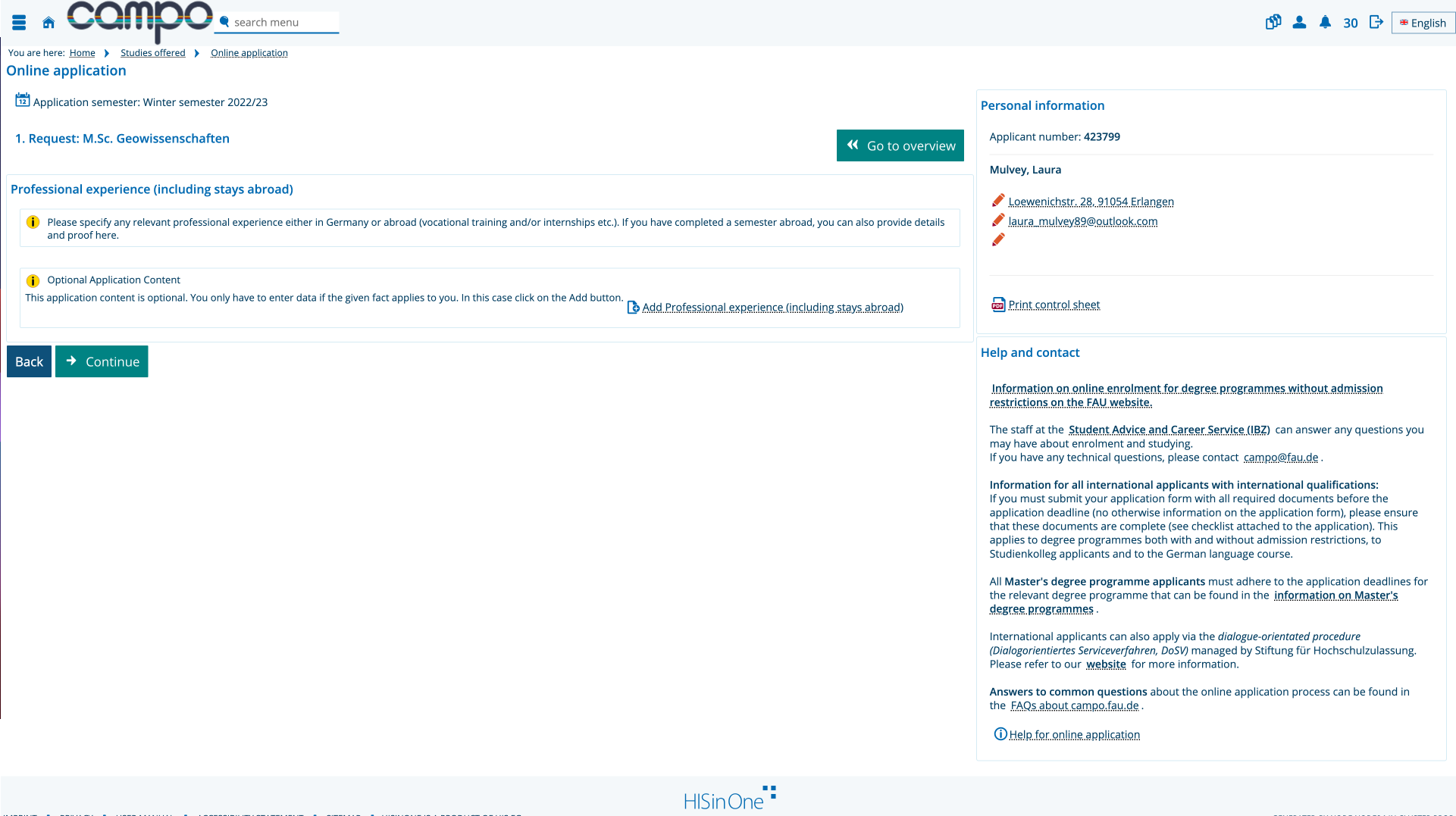 9. Subject specification and CV
Following the program outlines, our paleobiology program consists of a major (Paleobiology - Paleoenvironments) and a minor (Climate and Earth Systems) subject. This combination has to be specified at the next step.
Note that the "Climate and Earth Systems" minor was recently renamed from "Earth System Research Lab" and the Campo portal has not yet incorporated these changes. The two are equivalent. This will be rectified soon.
Please select HS: Palaeobiology - Palaeoenvironment (PB) | NS: Earth Systems Research Lab (ES)! HS stands for the major (Hauptstudienrichtung) and NS stands for minor subject (Nebenstudienrichtung).

For bureaucratic reasons, you also need to confirm this choice by uploading it a separate document to Choice of major and minor subjects. We have prepared this for you, you can download it here.

You also need to upload your CV on this page.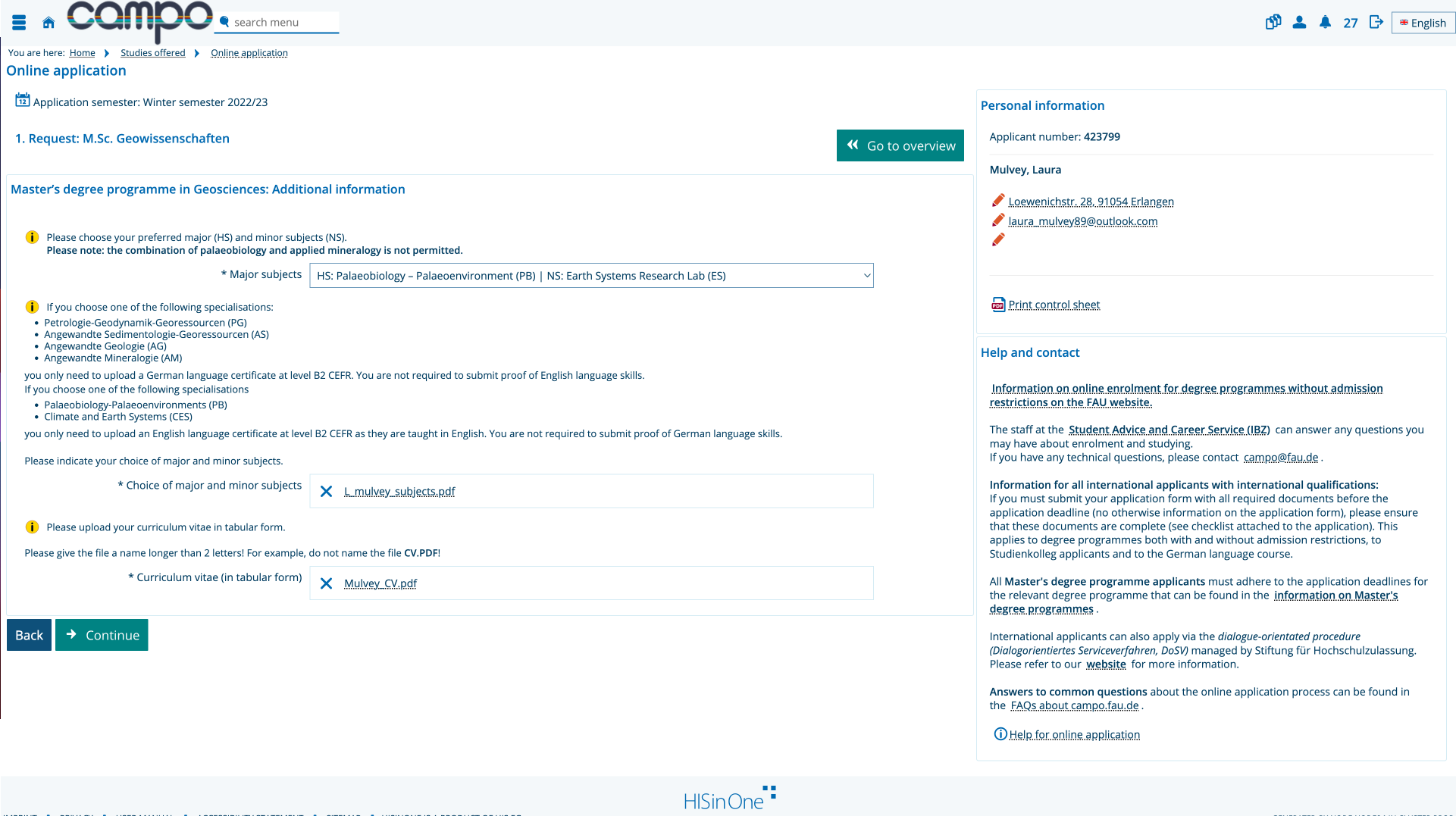 10. Other entrance qualifications
If you have sat a centralized entrance qualification in your country, you can specify it here.

Unless you have completed a German entrance qualification, specify No for the Assesment examination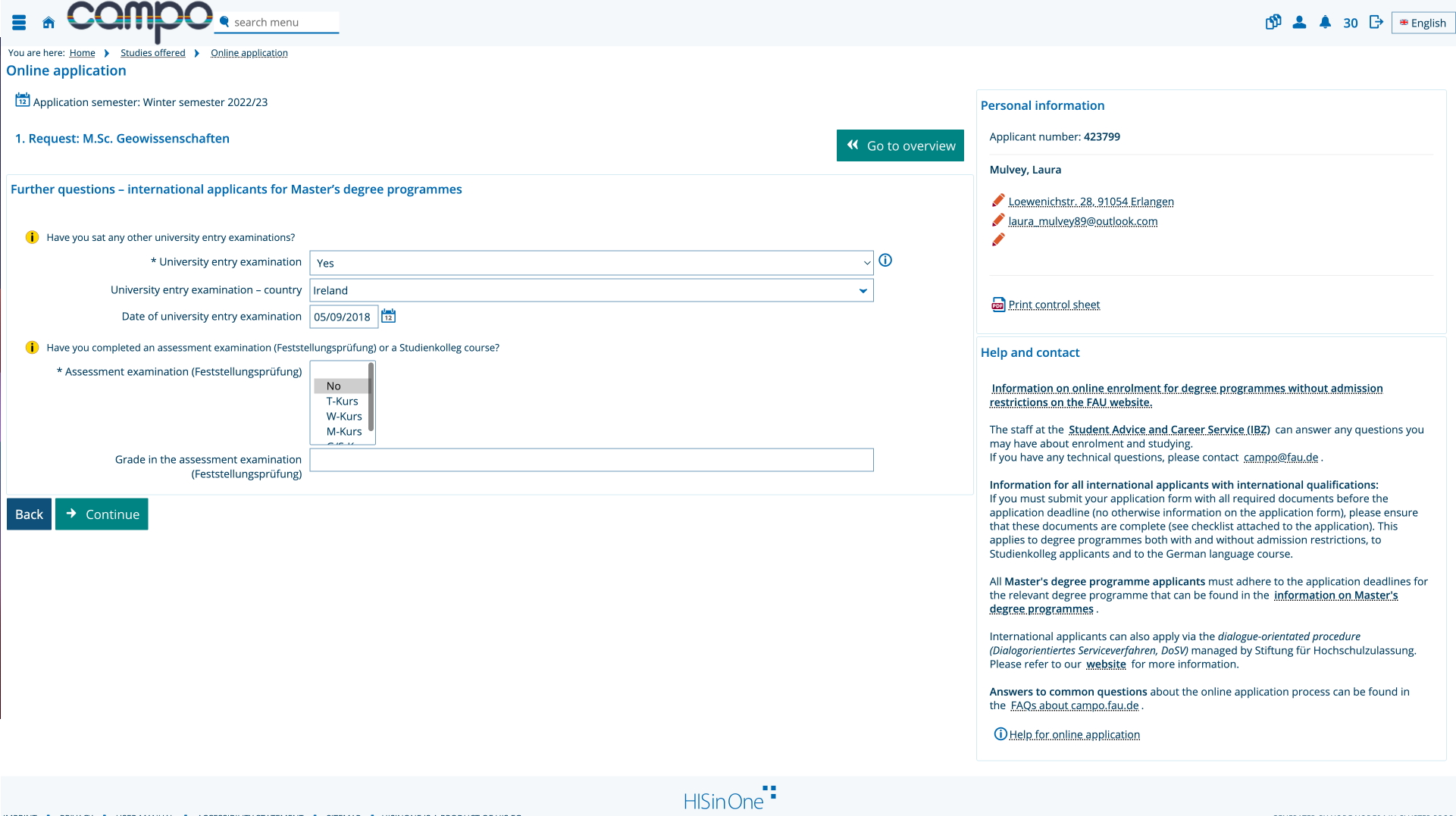 11. Previous applications
If you have applied to the program earlier, please provide details here. Otherwise answer No to the first question.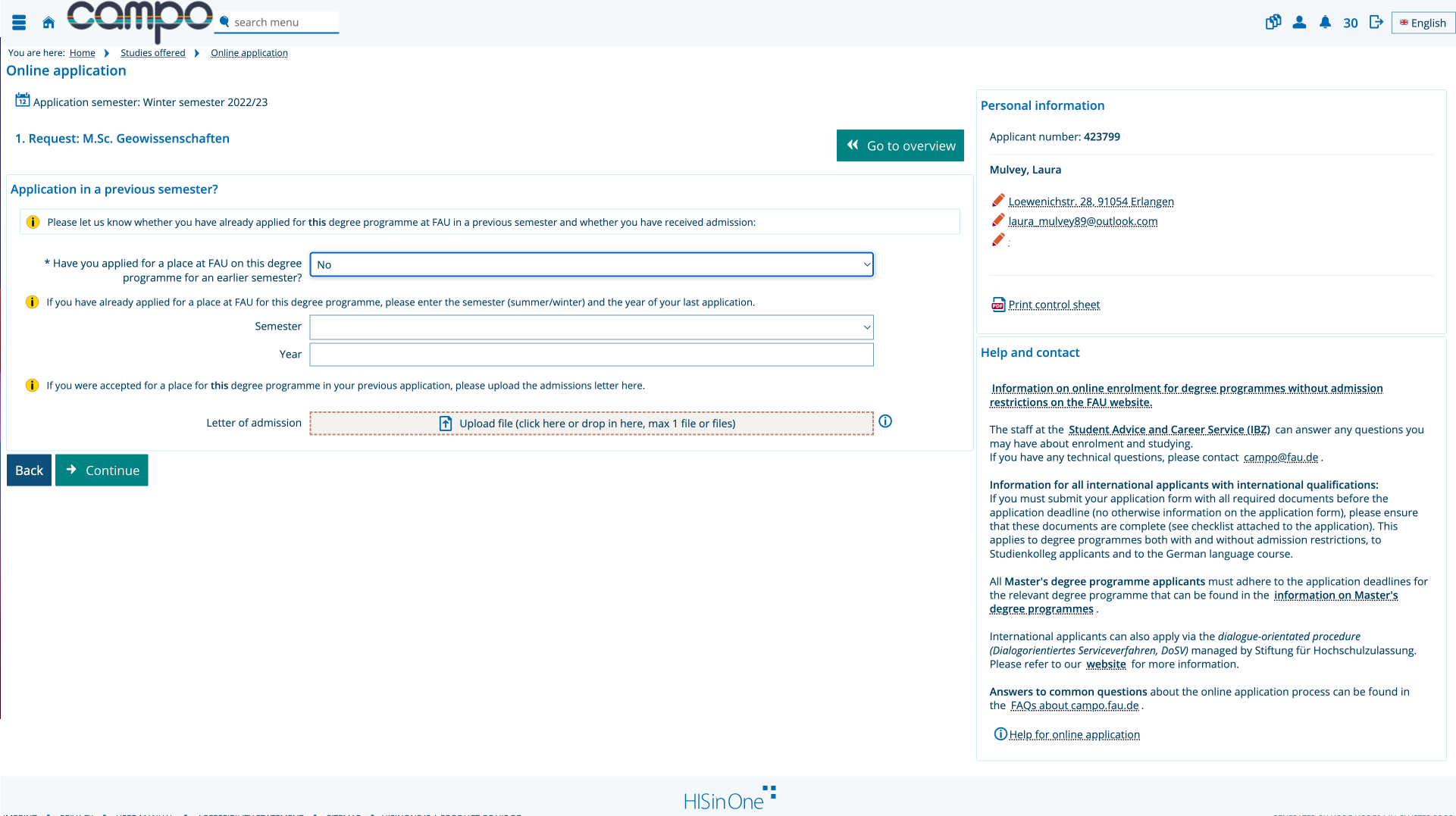 12. Miscellaneous
Here is where you can provide additional documents/certificates that you could not upload earlier and you consider them relevant to your admission.
This is the place to upload your Motivational letter.
Please also provide use some feedback on where you found our program.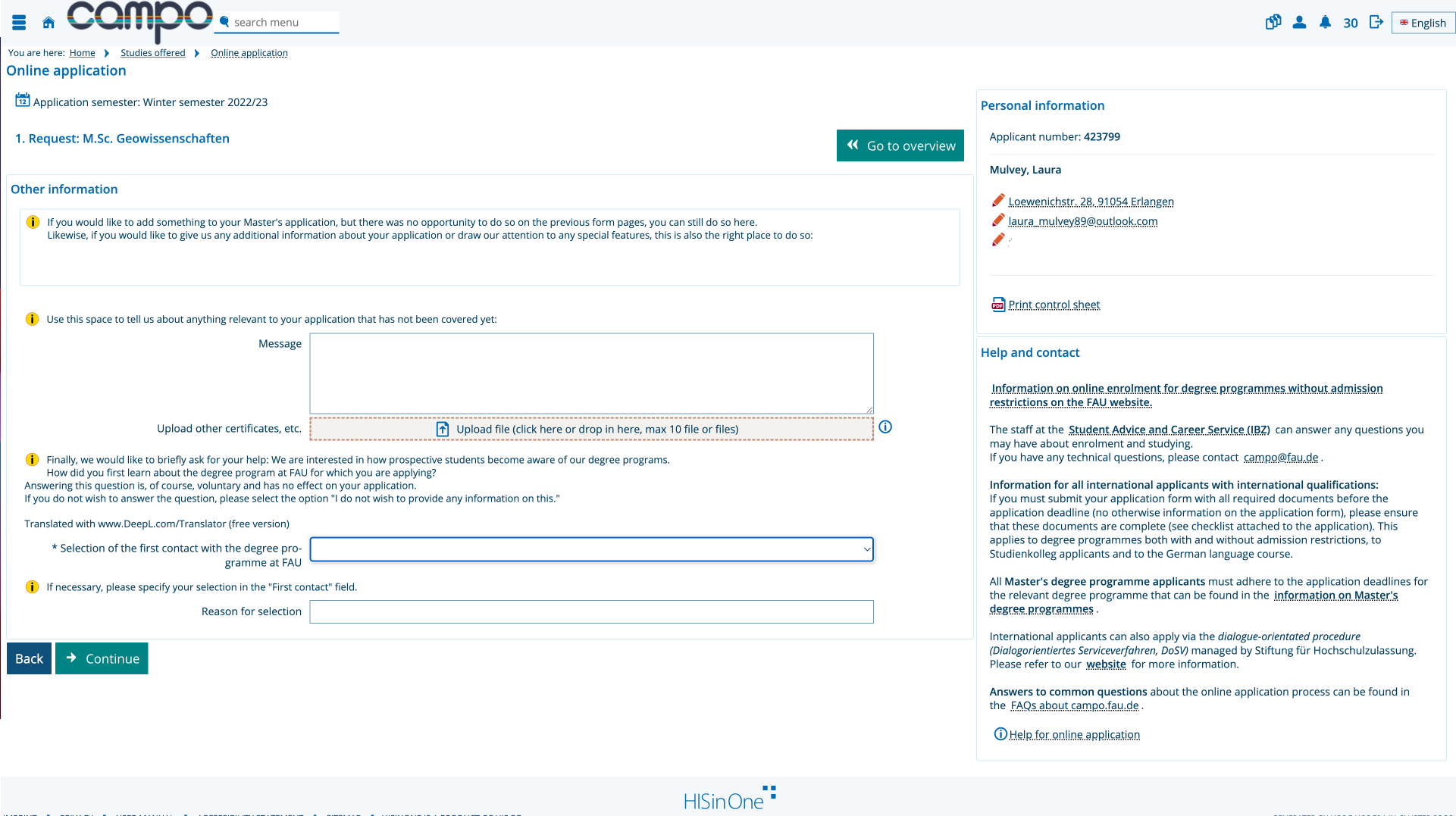 If you have been a student at the FAU before, you can provide your Matriculation number here.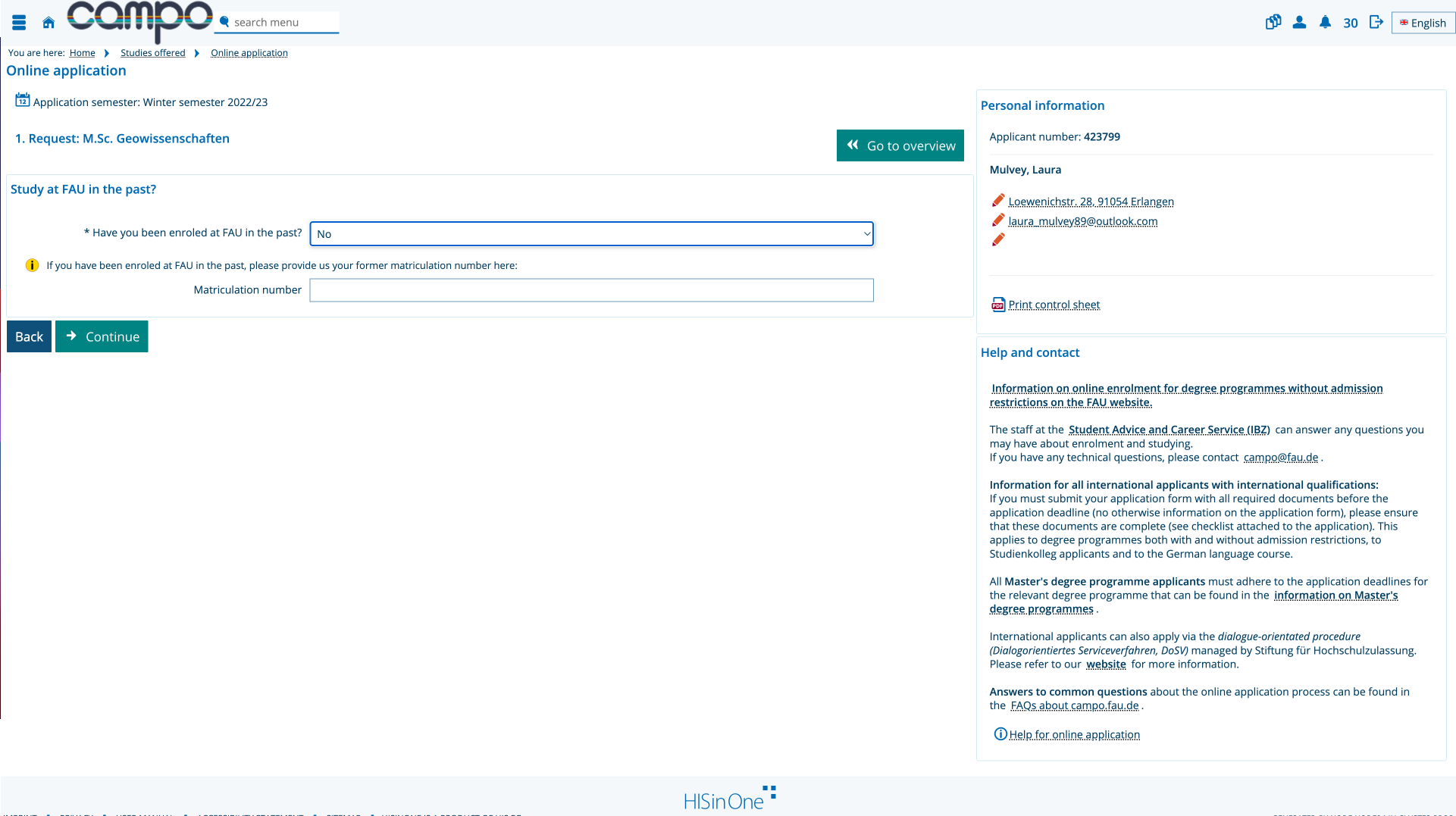 You can also specify if you want to get newsletter (first question), and whether you want to get it in English or German (second question). When you are done, click on continue.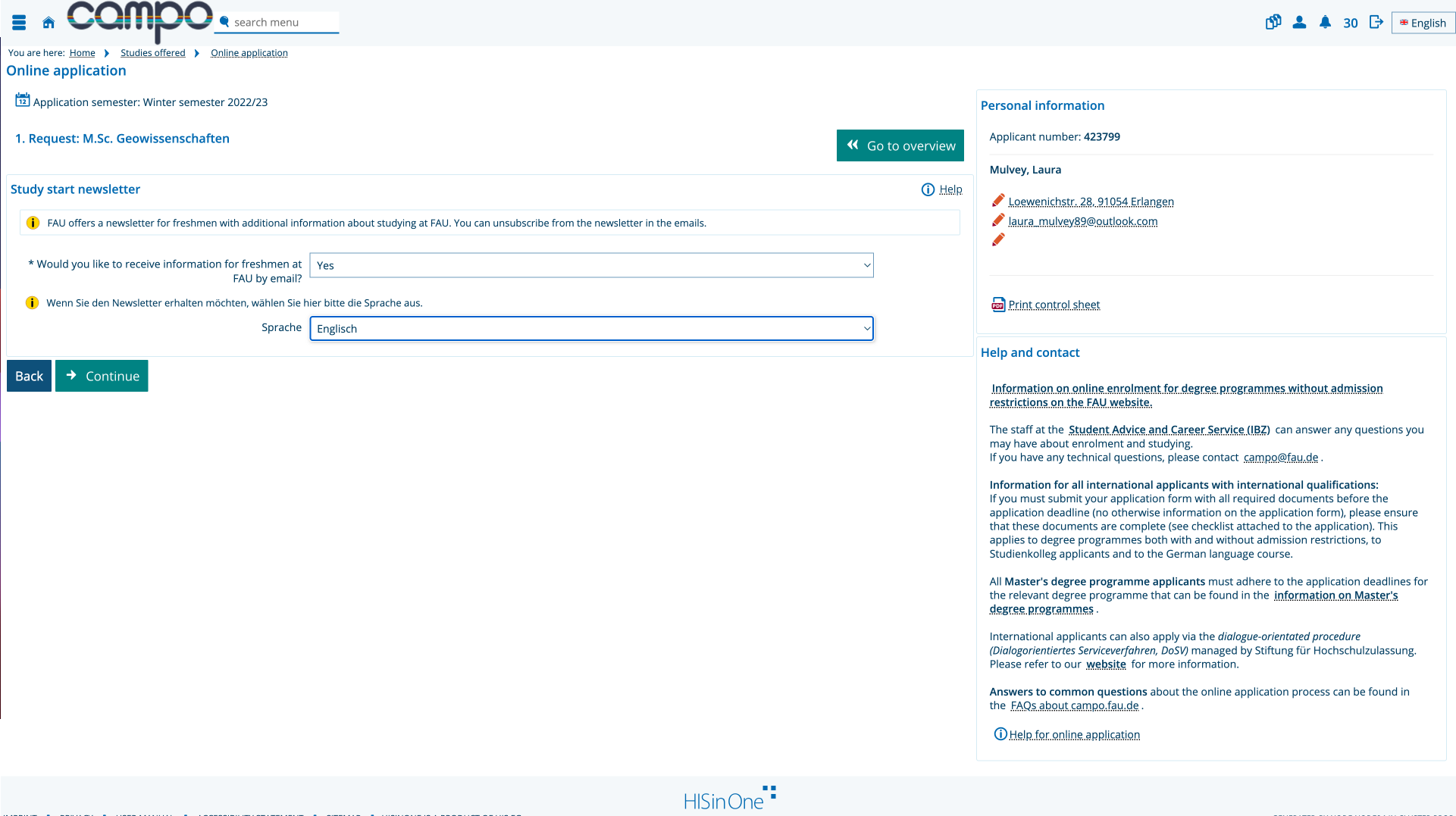 13. Submission
Finally you have a chance to review your application. Once you are certain that the provided information is correct, click submit, and your application is done. ​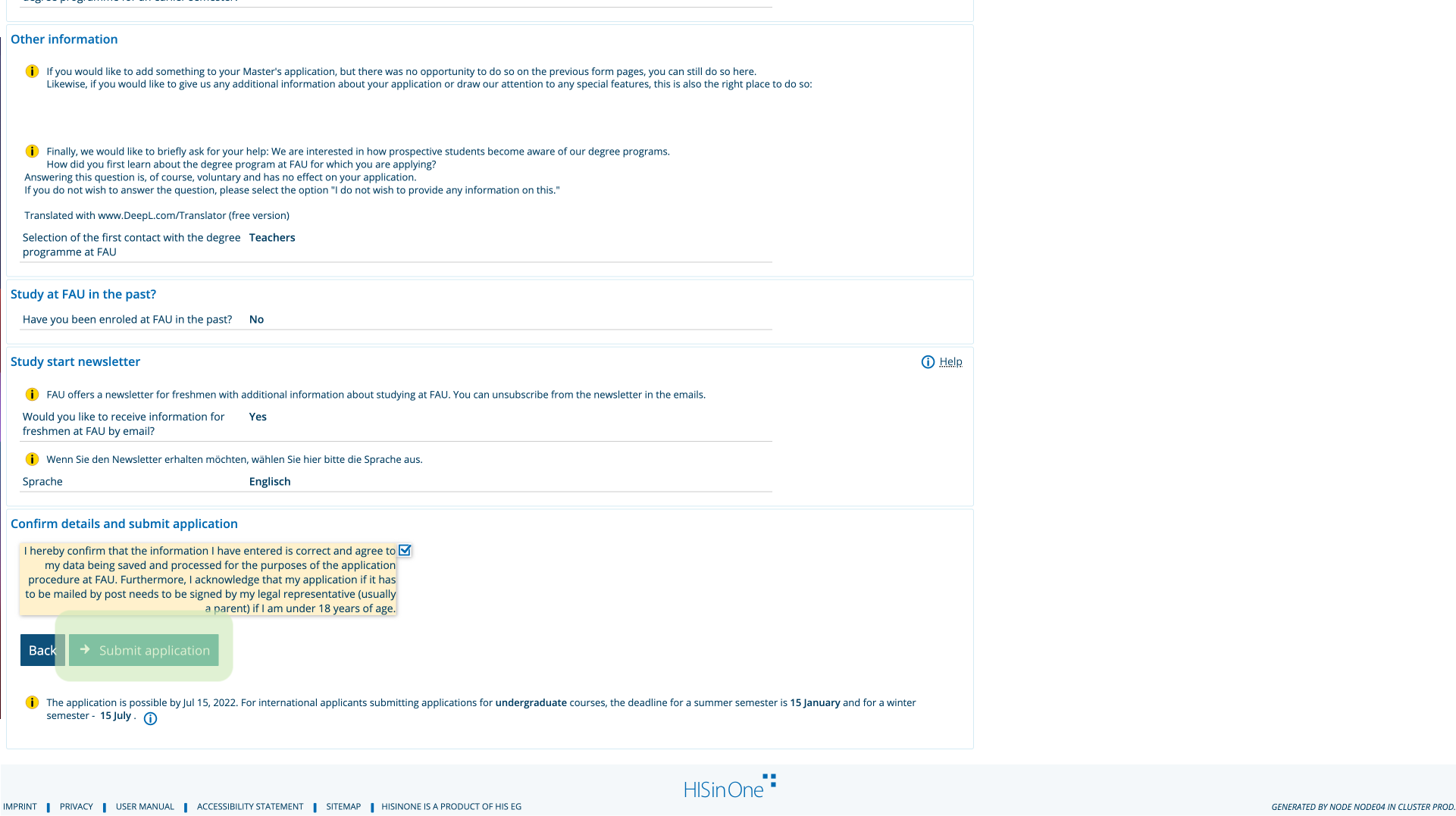 After submitting​
Your request status should now change to submitted and you should recieve a confirmatory email.
You will see lots of notes about sending documents. In earlier years the FAU required you to submit certified copies of your certificates just to be processed for admission. This practice has been replaced by the new paperless system this year, and some degree programs still require the sending of paper documents.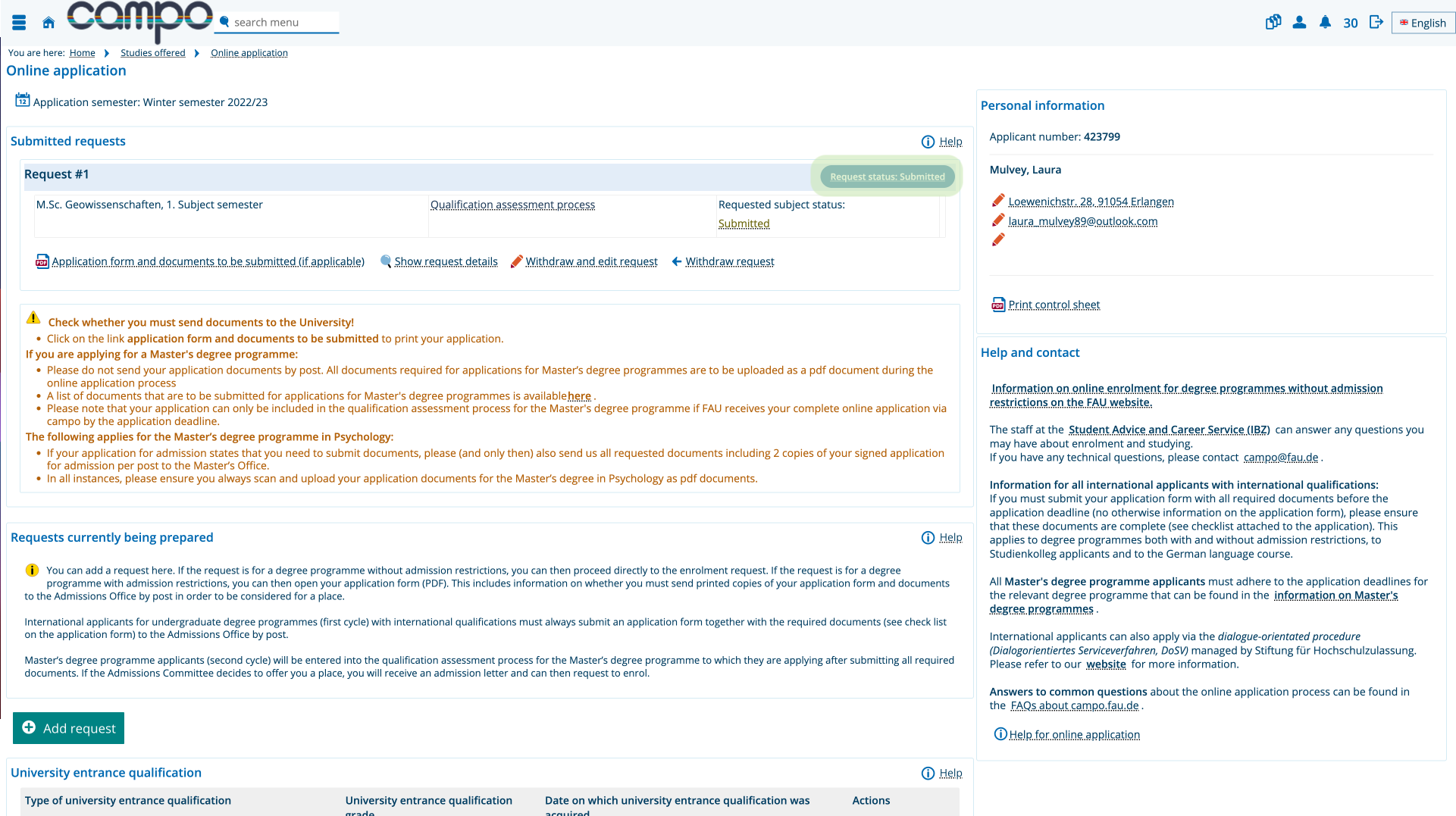 ​
Well done, you have made it! You have successfully applied for the masters program! We are really excited to read your application. Make sure to email us to let us know you've applied.

We will get in contact with you once your application has been processed. If you are elgible to be admitted, than we will invite you to an interview, and will send you further instructions by email.
---
---
II. Admission interview
Most applicants are interviewed before admission so we can assess their background and their potential to participate in the program.
If you come from a geoscience bachelor program and you have a grade that translates to a better grade than 2.5 according to the German system, you do not have to participate in the interview and are automatically admitted to the program.
We will send invitations to the interview by mail, once your Campo applications have been processed.
Timing
Interviews typically take place in June for Non-EU, and in Early August for EU students. These interviews are typically about 20-30 minutes in durations, and take place either in person or virtually.
Material for the interview
We will assess your basic knowledge of geology and paleontology during the interview and recommend applicants to review/obtain knowledge from this textbook:
Stanley SM, Luczaj J (2014) Earth System History. Freeman/Worth, New York, ISBN: 1464157952 and 9781464157950